I already mentioned last week that Stampin' Up!'s Color Coach is an amazing tool that can help you add a splash of color to your designs.
We still have 2 more new In Colors–Midnight Muse and Raspberry Ripple–to look at .
Midnight Muse works so well with More Mustard and Rich Razzleberry.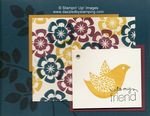 It's a rich, bold combination that works great with the flowers from Betsy's Blossoms.
But it could also be used as a masculine color pallette. So many options!  I'll have to show that another time.
Raspberry Ripple coordinates with Old Olive and Pretty in Pink. This time I used the In Color as the accent again instead of the base color.
I also used a new Essentials Paper Piercing Template on this card–no "special" shape yet…I just wanted simple.
But I have to say, the feel of using the new template & mat seems much more user friendly–like the project will stay in one place more easily.  Much appreciated! 
Check back tomorrow for more on Betsy's Blossoms…. 
Remember, if you can fall in love with a creation, you can learn to create it….
Here to help you channel your inner Creative Genius….

Have a great day!
Steph


Subscribe to my newsletter.