Happy Friday!!!
I have a few more things to share about Maine that you might enjoy!
This one will be much shorter. 😉
First, I HAVE to share the lilacs!!
These are MY color!! Love them.
I also thought of many of my dog loving friends…
Maine seems to be very dog friendly, starting right from the airport!
This cracked me up!
A lot of the shops in Bar Harbor–and also the hotel in Portland–had water bowls outside their store entrances.
And we made a friend at one of the lighthouses we visited.
Zoey was 10 years old and lived just down the street. Her owner took her for a walk to the lighthouse once a day cuz she loves people. 🙂
I also missed sharing 2 of my favorite foods!!
My 2nd favorite breakfast….
We found out right before we came that it was fiddlehead fern season in Maine, and it was one of the things they were know for. This was a special of the day–Bacon & Fiddlehead Eggs Benedict. Delicious!!
Todd & I joked that his dad would have been "proud" of me for having eggs benedict (his fave/go to breakfast when eating out), but he would have scoffed at the strange pairing. 🙂
Another fave of ours that I missed was the blueberry pie category.
In Bar Harbor, one restaurant's pie had "sugar lime-zested crust."
I'm not a huge lime fan, but this was fantastic!
Oh–I have a ridiculous thing I've never seen before…
You know how hotels that offer a complimentary breakfast will often have waffle makers with a waffle batter dispenser nearby to make your own waffles?
Well, our hotel had a pancake maker. We were gonna have a light breakfast our first morning before heading out. In fact, I wasn't even in the mood for pancakes! But I had to see it in action!!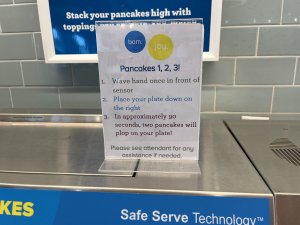 The batter plops down in a pile and gets squished between 2 plates (below.)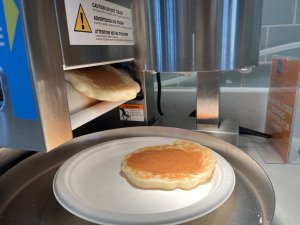 I was probably a little more excited than I should have been about this machine. Haha! And I told Todd that Liz needed one. 🙂
Of course, since I'm here, I need to share another pic of the coast–from our gorgeous sunny day exploring lighthouses.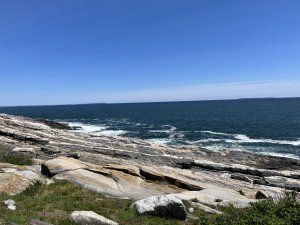 I was gonna make a table of the best food items from the places we liked them, but it doesn't really help you if you don't already have a trip planned there. Just feel free to ask us if you plan one!
Oh! I have a yummy story with no pic….
On our way back to Portland from church in Boston area, we wanted to get OUT of the craziness of Boston before finding somewhere for lunch. Everywhere we went, we were reading reviews and menus. Somehow I found a hole in the wall tavern in a little town in Massachusetts, just off the highway. The Rusty Can! They were known for their bbq, and Todd loved the idea!
We walked in feeling a little out of place. Todd called it part honky tonk and part rock. Todd was wearing his dress pants and dress shirt but had taken off his tie. I had already taken off my skirt and just had capris and a shirt. But we felt like everyone was like, "what are YOU doin' here???" Our server sort of looked at us funny, too, but she was better when we loved their food. 🙂
The food was FABULOUS! Todd ordered a brisket sandwich "3 ways" (had bbq, mayo and cheese). He was a little unsure of it but it was highly recommended. He LOVED it. I ordered pulled pork tacos and we each had cornbread with honey butter. YUM. And we had hush puppies as an appetizer with "pickled corn tartar." What??? I was scared cuz I don't like pickles. I read it wrong. No idea what pickled corn is, but it also was amazing! We were so full when we left and would go there again in a heartbeat!
That was the most UN-Maine thing we did–which makes sense since we were in Massachusetts. 😉
Ok, I think I'm done chatting about our trip.
Thanks for your interest! 
I don't know if I've ever told you, but we started a tradition of buying a Christmas ornament on every [incentive] trip we take. We ended up buying 3 this time–one in Portland, one at Pemaquid Lighthouse and one in Bar Harbor. 🙂 It's fun pulling these out at Christmas time and decorating our tree.
Do YOU have any traditions you do when traveling?
Have an amazing weekend!!