Hello!!!
Todd & I finally took our trip to Maine!!
You may remember we were supposed to go there last year, but our plans had to be changed.
So this year–while the rest of the incentive trip earners cruised to Norway–Todd & I traveled the coast of Maine! It was amazing!!!
Before I share a peek, I just want to say THANK YOU to all of you–my customers and Dazzling Demos team! I appreciate all your help and support to earn this trip!!! (While I didn't take the official incentive trip, I did redeem a cashout that we used for our trip to Maine. And I'm required to say that less than 1% of all Stampin' Up! Demonstrators earn the incentive trip every year.)
Our "home bases" were the city of Portland for a few days and Bar Harbor for a few more.
And before I go on, you should know we decided early on that if lobster, blueberries or whoopie pies were available, we were partaking!!
obviously, Maine is known for lobster; we were aiming for lobster rolls–usually a buttered, toasted bread or specially made bun with either a lobster salad with mayo (Maine style) or butter poached or sauteed lobster (Connecticut style). I love the butter!!
we also found out Maine is known for blueberries! Much smaller and very sweet.
known for whoopie pies…defined: 2 round, flat cakes–typically chocolate–filled with buttercream 
We got in plenty of all of those AND plenty of lighthouses and coastal views!
Our first big activity was the Portland Head Lighthouse.
It is the most photographed lighthouse in the world.
Todd loves lighthouses and photography, so he was in his glory!!
And we both love the water!
God's creation is amazing!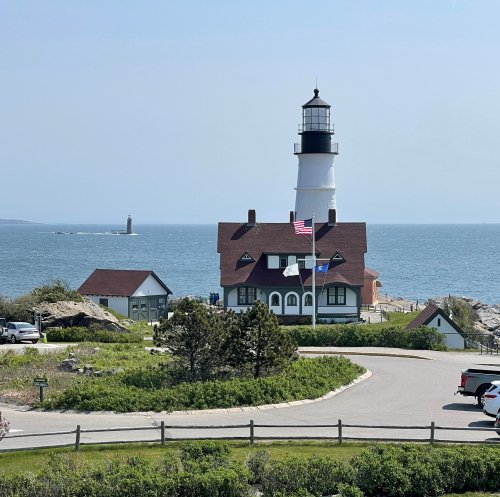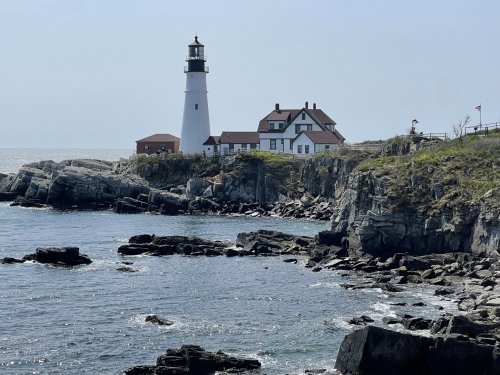 Todd doesn't look quite so tall here!
So Todd went from one end of the park to the other and was out on the rocks trying to get great shots.
So I took this pic of him:
When he came back, I told him I was a little disappointed he didn't go out on the next big, flat rock (that I saw someone else on.) He said, "don't dare me!" I told him he should do it! He asked, "are you daring me?" And I said, "YES! I want the shot!!" And he was off…and here it is…..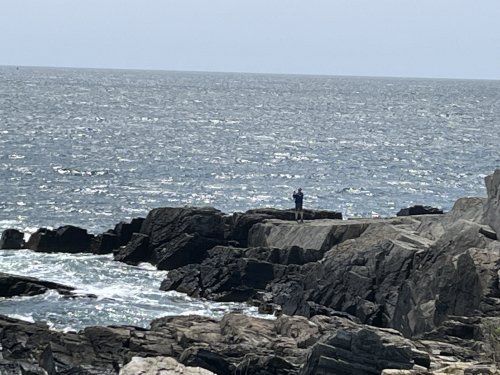 Before we left the lighthouse park, we went to a food truck (that happened to be "on my [food] list") and enjoyed the view! We had our first lobster roll, blueberry soda (I called it pop one time, and the person thought I said "pie") and whoopie pie! They were delicious!!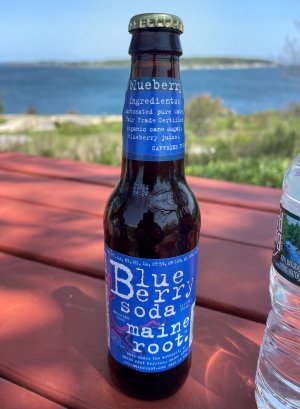 We also planned an excursion on a lobstering boat!
Waiting to leave the wharf.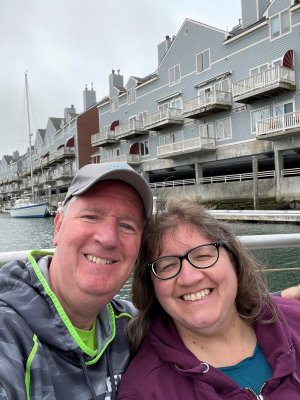 We filled bait bags for the traps.
Measuring the lobster to see if it was big enough to keep.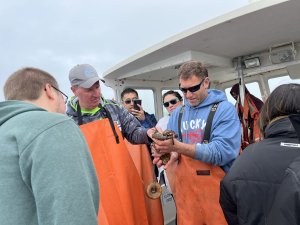 Throwing back a crab that they never keep. The seagulls are often waiting for them!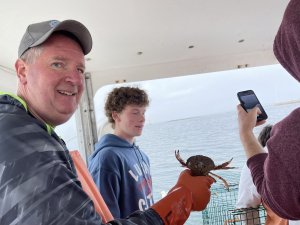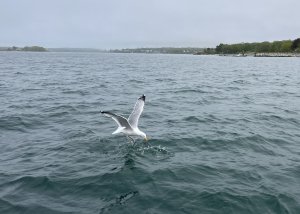 One of the trap spots was in front of the lighthouse, so of course, Todd had to get a few of those!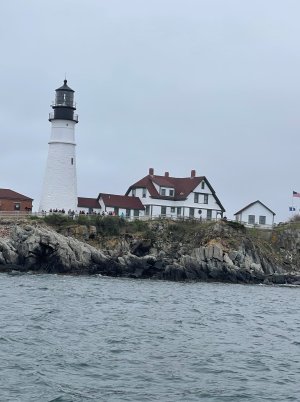 We're taking a lobster "home"/next door for them to make it into a lobster dinner!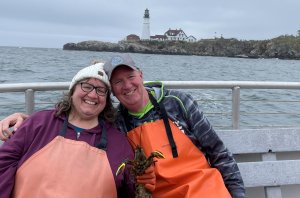 We were there really early in the lobster season, so we actually never pulled a trap that held a lobster that was big enough. But they keep a tank on the boat for us to buy one cheaply.
Here's the dinner the restaurant made with it, plus the shrimp roll Todd ordered:


My first lobster claw!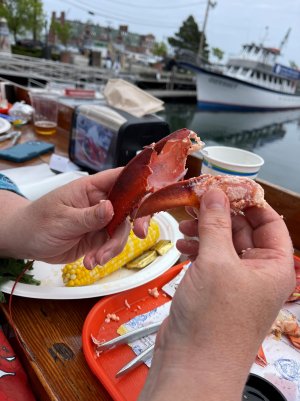 From Portland, Todd also wanted to visit another lighthouse–Pemaquid Point–farther up the coast. He'd seen an amazing shot that he wanted to get for himself. And I love it!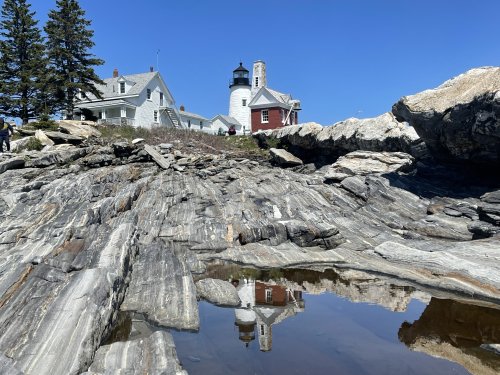 Being by the water is so beautiful, soothing and mesmerizing. 
Before "leaving Portland", here are a few other things we enjoyed:
Holy Donut–they make their donuts from potato flakes rather than flour. They're not quite as sweet as "normal" donuts, and they're pretty heavy. Not our fave, but they were a must do.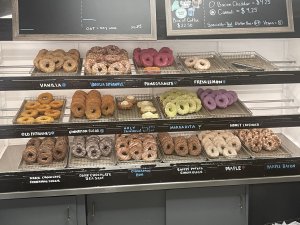 My fave was maple bacon; Todd's was honey lavender.
We found blueberry milk at Walmart! If you ever had Booberry Cereal like we did as a kid, it was like that after the cereal was gone. 🙂
One of the lobster rolls we tried had a bao bun for the bread. Delicious. Loved the lobster and loved the bao bun–soft and pillowy–but combined it wasn't my fave lobster roll.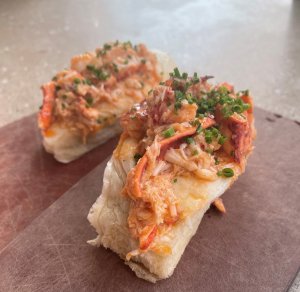 One of our breakfast spots had the largest whoopie pie! (It was twice as big as the first one we tried the day before!) We took it "home" for a snack later.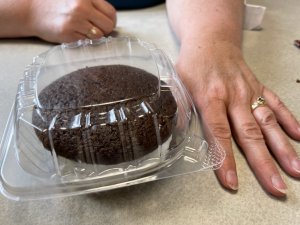 Off to Bar Harbor! We traveled up the coast and made a few stops, but the focus when we got there was Acadia National Park.
Todd wanted sunrise pics on Cadillac Mountain. Can you believe the sun rises more than an hour earlier there than it does in Michigan? Todd was up on the mountain by 4am! He spent a few hours there while I slept. Then he came back and we went to breakfast. But I was actually up early (for me)!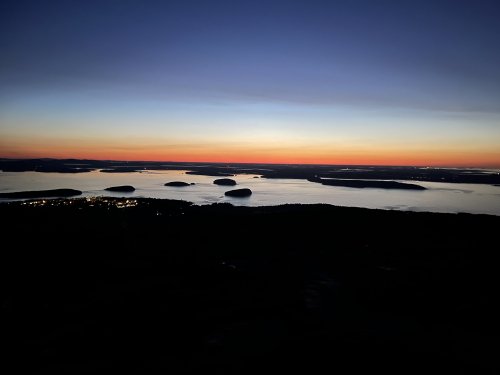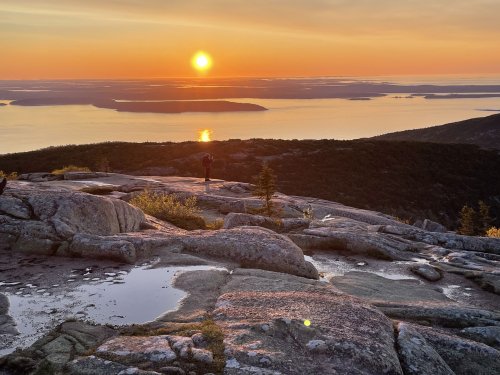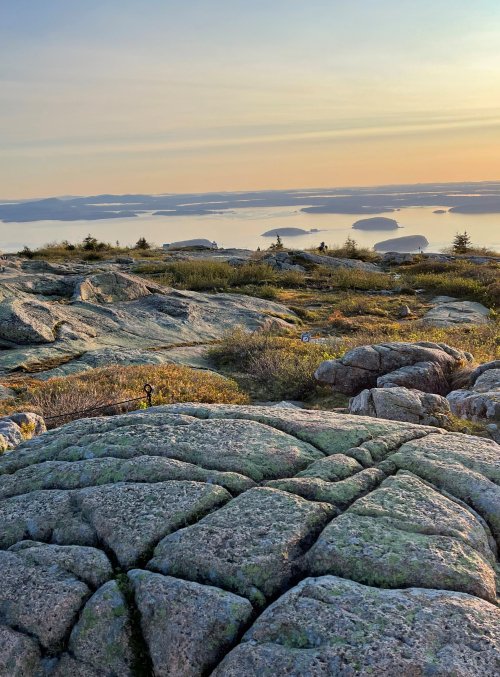 This was on the way back down the mountain. Love the reflection shot again! He didn't even realize he got it til I pointed it out.
I never asked/heard how high the mountain was, but when he brought me back up later, my ears popped on the way up and back down!
That morning we went into town and had our best breakfast of the trip!
Todd chose stuff blueberry french toast. Fabulous!
I chose lobster eggs benedict. Luscious! The english muffins were perfectly toasted, so it was like a lobster rolls with hollandaise!! YUM.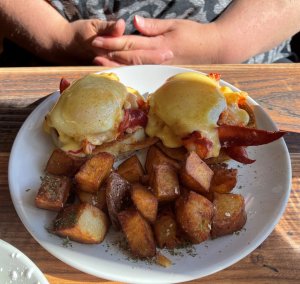 And we shared a GRILLED blueberry roll. It should be a regular thing around here, too!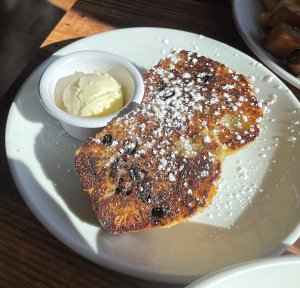 Todd went out the next morning for sunrise at a place called Otter Cliff. Every morning he spent hours taking pics and exploring. 🙂 He could go on and on–so if you wanna hear more, ask him!!!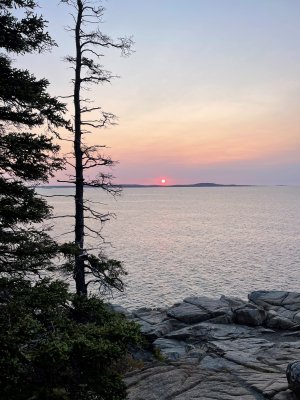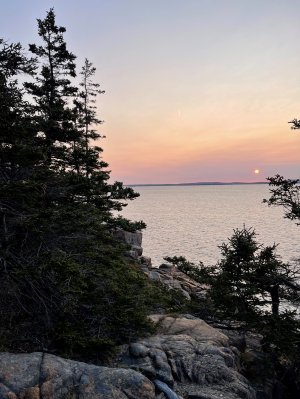 Second favorite breakfast…(well, my 2nd fave was in Portland, but this place was awesome.):
Todd chose blueberry pancakes with blueberry compote on top.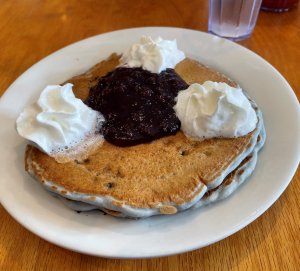 I chose Pot Roast Delight! It had home fries, pot roast (very tender and juicy), provolone and 2 eggs, plus their homemade oatmeal toast with their homemade strawberry rhubarb jam.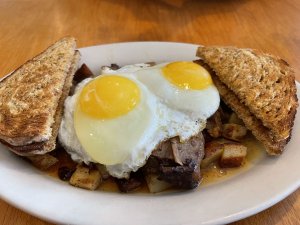 One of the days we traveled farther up the coast to a few lighthouses, but the real stop was Lubec–the farthest EAST point of the US.
Todd had mentioned it a year ago already but wasn't sure we'd have the time to do it. This year we planned extra time, and I talked him into making the trip. His dad had talked about it, too, and had Lubec programmed in his weather (station?) on his tv. In my opinion, it was a must see. Dad would have loved to know we went there.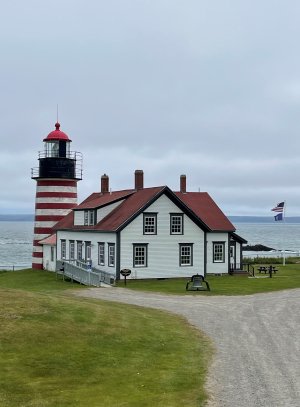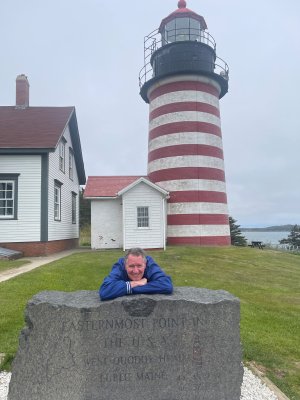 That night we ate supper at a spot Todd called the most "Maine-like restaurant." It was really relaxed and outside, so just a nice change from dealing with downtown and parking charges and inconvenience. We actually went here again later in the week.
Todd chose lobster panini that was wonderful, and I had to try their lobster roll.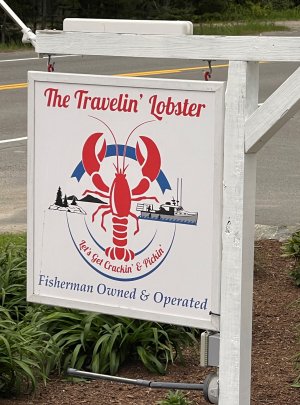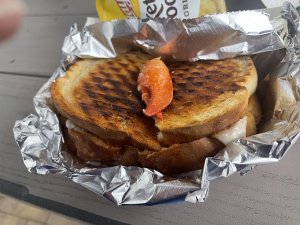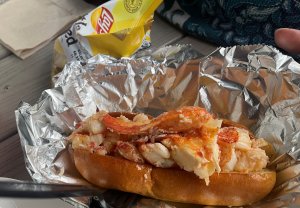 The one thing I told Todd we HAD to do when we were in Bar Harbor was visit Jordan Pond House.
I was told I HAD to try their popovers and strawberry jam! It was somewhat of a feat to accomplish, because they don't open til 11am, but when they do, THERE ARE LINES. We got there over 1/2 hr before they opened and were 2nd in line (they open a window to have everyone to check in at 10:30.) All the reservations were booked but they took walk-ins as they were able. While we were still standing there waiting, they were turning people away that wanted to actually make a reservation. If they wanted to stand in line, they could get in.
The popovers were delicious! They were traditionally served with tea. (Popovers are an English thing.) But we chose blueberry lemonade!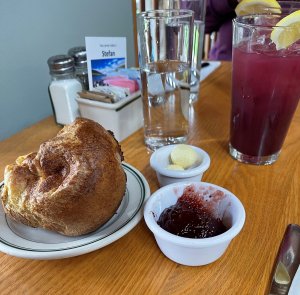 After lunch, we were originally gonna split or share dessert. But I decided I wanted another popover….I was so glad I did!!!! When it came, I opened it and steam gushed out of it!! I quickly added my butter and jam and it was even better than the first one!
We had a free afternoon and decided to take a cruise on a schooner!
It was a chilly day on the water, and we had a LOT of wind! so they only raised 3 of the 4 sails while we were out. We also had beautiful sunshine at times and rain! We had it all!! And we saw an eagle soaring on the way and way back. The video is Todd helping raise the sails….There's a crew on board, but they ask for volunteers as well.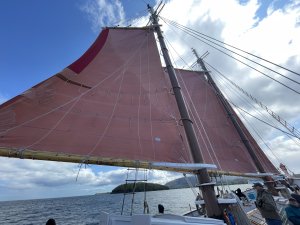 The last morning before we left Bar Harbor, Todd went to see Thunder Hole in Acadia National Park at sunrise. It was another MUST SEE.
It's amazing to see God's power in the ocean.
That last day we headed back to Portland, and the goal was to hit one last restaurant at night for lobster rolls.
This ended up being my favorite lobster roll and our favorite whoopie pie!!
Todd ordered a lobster roll as well, but chose a taco shell that was completely cheese formed into the shell.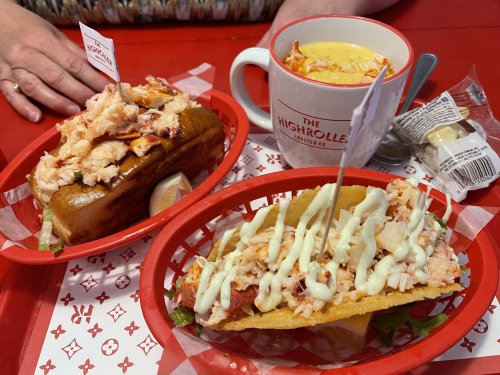 So the blueberry whoopie pie is basically blueberry muffins for the cake part.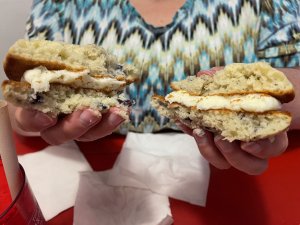 There is SO much that I left out!! But as you can see, this is already so long! I may need to revisit this topic–or maybe Todd will need to have his say in a separate post. But to close, I thought you might enjoy a few statistics from our trip….
Our Maine trip statistics:
We put 1,000 miles on our rental car.
We traveled from Boston (south, briefly for church) to Lubec (north, east).
We saw/visited at least 6 different lighthouses and too many landmarks/coastal attractions to count!
We tried 5 different lobster rolls.
We tried 7 different whoopie pies.
And we tried blueberry pop, pie, milk, muffin, crisp, lemonade, margarita, beer, french toast, pancakes, and whoopie pie!
If you made it this far into my post, THANK YOU AGAIN SO MUCH for your support!!! We appreciate you and had a wonderful trip!
Have a spectacular day!!