Hey–I'm back again with Favored Flowers DSP!
When I originally saw it, I thought, "those are my colors!"
And then I wasn't sure what I wanted to do with them.
Turns out, I wanted a little more subtle look and fell in love with an amazing sample from France Martin. 
As I've been telling my club members, I "dumbed it down" to more of MY kind of style.
But the white heat-embossed sentiment was still definitely needed!!
The flowers were fussy cut to place on the top layer.
So here's my simple version of her card:
(the flowers/DSP are Petal Pink)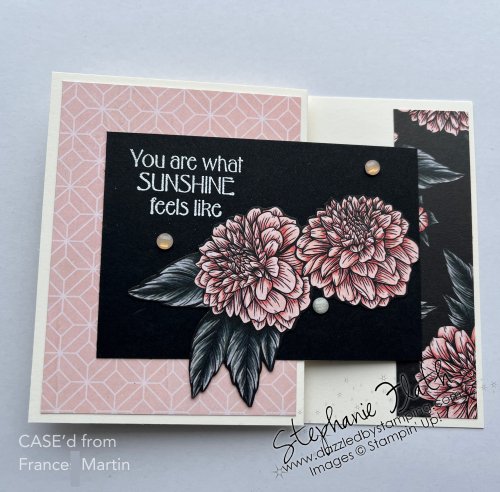 I absolutely love this look!!
And the black cardstock for the background "forgives" any errors you make when fussy cutting.
I don't often fussy cut or even die cut a bunch of DSP; I don't want to waste so much of it cutting around what I want.
But with this design, you can even use much of the flowers cut off at the edges–just by lining its edge up with that black layer.
Here's another version of the same card–with that cut edge lined up.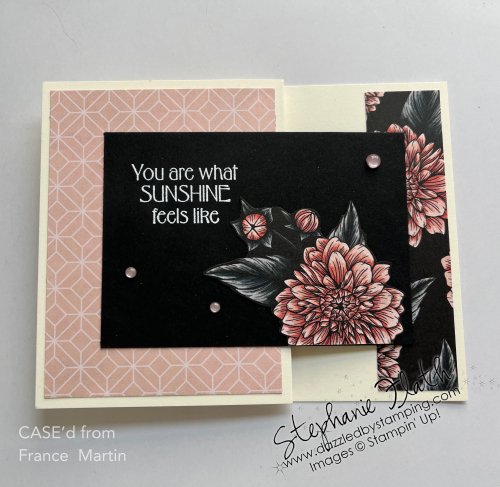 It makes me so happy!
ps: the first card used Elegant Faceted Gems, the second, (Petal Pink) Milky Dots
Here are the basic products used for my card: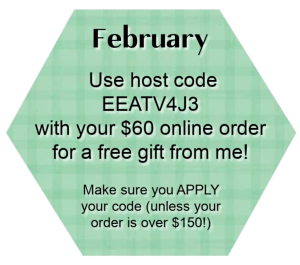 Have a wonderful day!!