Good morning!!
I saw a sign at Tyler's house that said,
Every Christmas

sweater is ugly

–The Grinch
We had a good time at Tyler & Paige's Ugly Christmas Sweater Party and got good pics!
(It was our first.)
Good food, too!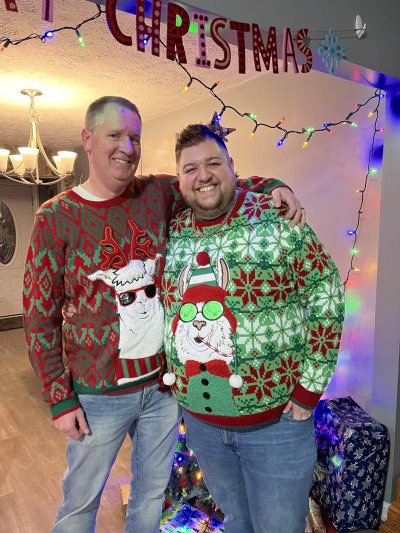 So Tyler started a llama "thing" a few years ago when he first moved into his own apartment.
He bought a black and white pic of 3 llamas–as he called it, "a conversation piece." It goes perfectly with his decor.
Ever since, he and his roommate Josh have gotten all kinds of llama gifts from everyone around them (including Josh's grandma)–stuffed animals, Christmas ornaments, etc.
They've gone through 3 stages: loving it, hating it (they can't get away from them!) and embracing it. 🙂
So Todd found his perfect one, and didn't tell Tyler. 
Tyler's got dangly strings with puffballs on the ends on his.
Todd's is even better….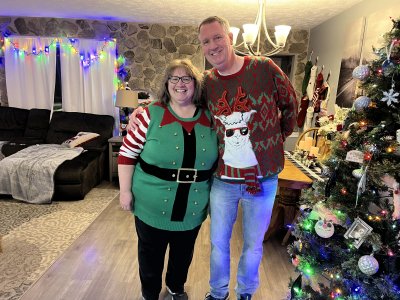 Hahaha! I love it.
Oh, and I didn't realize mine had JINGLE BELLS until I got it!
I went to open it, and it started jingling!
I was like, uh oh.
On the way to Tyler's, I told Todd not to go over too many bumps. 😉
Fortunately, at the party with Christmas music and people chatting, I didn't cause too much of a ruckus. 😀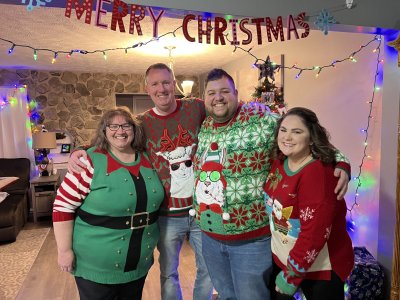 We also had to make sure to get pics of the dogs in their sweaters, too!
Walter and I are sort of twinners.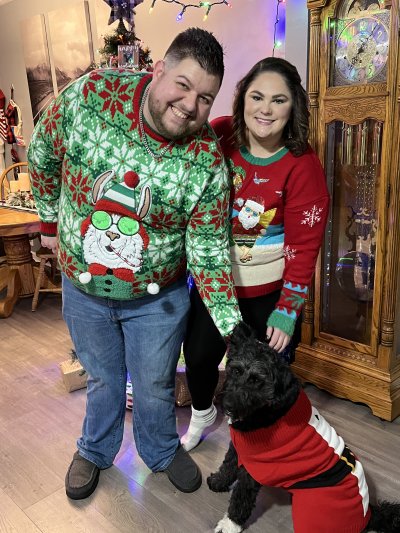 This is Walter's first best friend, Ginger (and Ken & Vada, too.)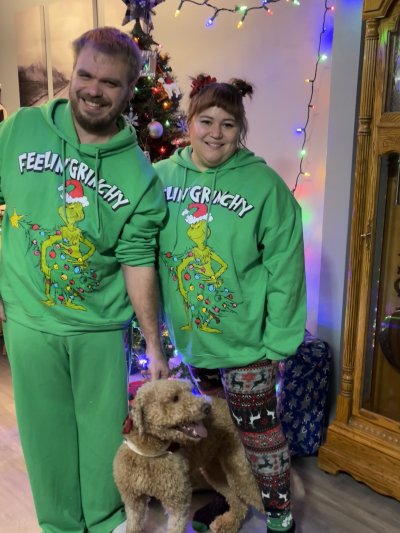 I never got one of Hazel.
She had her sweater taken off soon after the party started cuz she was "moping." 😉
We didn't stay long, but we had a good time.
And we were told there's Ugly Christmas Sweater week at our chiropractor the week before Christmas.
I think the doctors will enjoy adjusting Todd's back that week! Haha!
Have a fantastic day!!