Happy Thursday!
Are you getting ready for another long weekend?
At least this one will be warm again!!
Amazing! And yay!
I'm back today with closeups from my Live! yesterday.
I apologize for the video and any complaining!
I was SO distracted by my video not turning correctly for me!!
Here's a pic of the gift card box.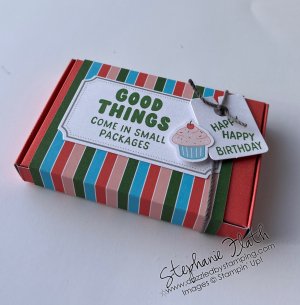 I was amazed by so many color choices and options for this kit!!
I chose to make a baby card for an alternate idea using the supplies in the kit.
In my Live!, I forgot I wanted to add some bling!!
I found it when I was done. 🙂
Just a few basic rhinestones.
MOST of the Measurements & Products came from the Paper Pumpkin Kit–Good Things Come in Small Packages….Here are the rest…
Baby card:
Smoky Slate card base: 5 1/2" x 8 1/2"; scored at 4 1/4"
Basic Gray: 3 1/4" x 4 1/2"
DSP (came from one of the wraps for the box), BUT they were 2 pieces:
 1 – 2 1/4" x 3"; scored at 1/2"
 2 – 3" x 3"; scored at 1/2"
Tags: use whatever you have! Circle is 2" diameter; "bread clasp" is 1" x 1 1/4"
PRODUCTS:
I already changed my host code already for January: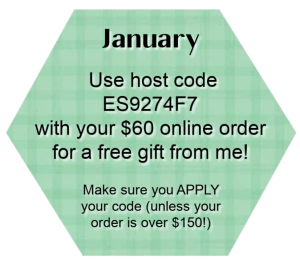 Have a magnificent day!!