And we're off!!
TODAY ONLY  with orders of $75 or more, you get FREE SHIPPING!
Click here: https://bit.ly/shopwithSTEPH
It lasts til midnight MT/2am ET.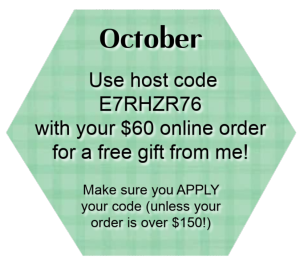 ---
Also starting today thru October 31, you can sign up as a new member of my Dazzling Demos team and receive an EXTRA $30 of product with your Starter Kit!
Btw, I inserted this pic for some COLOR!
BUT–are you aware YOU CHOOSE EXACTLY what you'd like to include in your kit???
The only exceptions are exclusive host items or SAB items.
For your $155 or product right now, you could order the Stampin' Cut & Embossing Machine [the BIG BOSS 😉 ] and a set of dies OR you could order 36 packages of Stampin' Dimensionals!!! haha!
COMPLETELY CUSTOMIZABLE.
One more quick hint: FREE SHIPPING (which you also get with your Starter Kit) is the ONLY way to get a discount on the machine. 
You can't choose the Big Boss as a half-off item when you're hostess.
Ask me any questions you have or 
Join my team here: https://bit.ly/JOINwithSTEPH
---
I have another project from my VIP, Georgianne.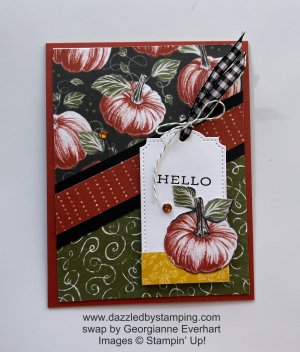 This one makes good use of the gorgeous Rustic Harvest DSP–including the fussy cut pumpkin!
Love it.
Here's some of what she used:
(click any product pic to order)
Have a fantastic day!!