Hello!!
Do you love sunflowers?
Have you tried Paper Pumpkin yet?

This banner is a quick preview of the August kit.
That makes me so happy, too!
Last week my sister and niece were in town from San Antonio.
I had forgotten my niece's favorite color was yellow, but after I learned why (bright, cheerful, etc), I also asked her if she likes sunflowers, too.
She said, "oh yes!"
She and 2 of my other nieces got a pic with sunflowers after we picked blueberries. 🙂
Plus, we were already planning a girls night with crafting.
So, I made sure we were using plenty of yellow.
AND I remembered we have a sunflower stamp set!
YAY!!!
I introduced everyone to the Stamparatus, and here's the card we made: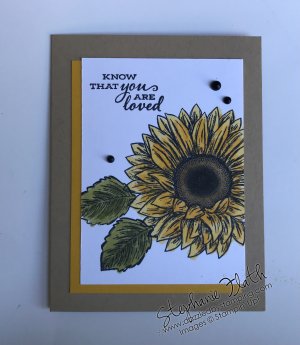 Product details:
BONUS: I remembered the next Paper Pumpkin kit is Sweet Sunflowers, and my sister has a subscription!
If YOU wanna try Paper Pumpkin with sunflowers, make sure you subscribe by August 10!
Here's the link: https://bit.ly/StephPaperPumpkin
---

Sale-a-Bration is going through the end of the month!
And we have new items available to earn–from current catalogs.
Make sure you use these items numbers listed below, rather than the ones found in catalogs.
They're the same products as in our catalogs, but these numbers are for freebies with qualifying orders.
Sale-a-Bration Freebies:
Here are the NEW options…
Here's a list you can view/print: Download SAB_EXTRA_OPTIONS
Here are pics, BUT the links are to the products at full price. (Sorry, I couldn't get a table of pics with workable links.)
USE THE ITEM NUMBERS IN THE PICS:
[163094]

FREE WITH 

$50 ORDER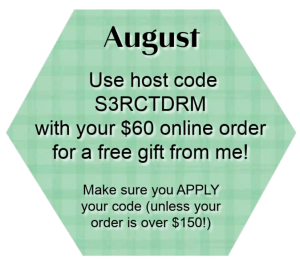 Have a spectacular day!!