Hey–
I have Live! closeups for you, but I thought I'd share a couple pics from our modified vacation. 🙂
If you didn't watch my Live!, we DIDN'T go to Maine.
Weather changed our plans (flight) too much so that we wanted a do over another time.
We would have missed too much of our trip–including our lobstering excursion!! 🙁
So we ended up going to Traverse City for a couple days, and we took an excursion to Sleeping Bear Dunes.
We'd highly recommend Up North Tours.
Matt was awesome!
We learned a lot about the dunes and the Great Lakes ecosystem in general.
Here are a few pics: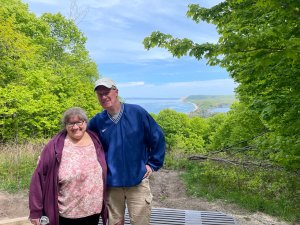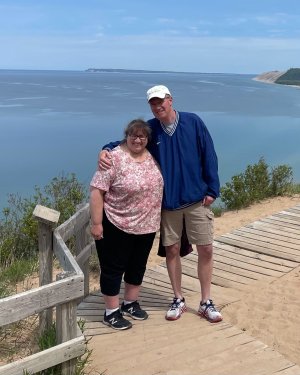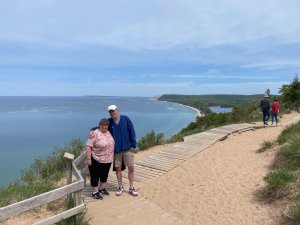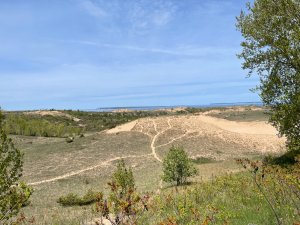 Of course no trip is complete without Todd's early morning exploring, while I'm happily sleeping. 😉
I have one last pic for you….
If you watched my Live!, I mentioned Todd had the awesome idea to google search lobster rolls in (we unsuccessfully tried TVC) Grand Rapids, and we scored!!!!
Beacon Corner Bar (next to San Chez–and I think owned by them–downtown.)
This was the Connecticut style (which I was most interested in after watching YouTube videos).
It was FABULOUS!!!!
FYI, the extra butter was a request by me–doesn't come automatically. 😀
We're aiming for Maine again NEXT spring (and will plan for MORE time and flexibility!) and maybe something else this fall.
Ok, NOW I have my closeups:
card:
Tahitian Tide: 5 1/2" x 8 1/2"; scored at 4 1/4"
Basic Black: 2 3/8" x 5 1/8"
DSP (3): 1/2" x 5"; 3/4" x 5"; 15/16" x 5" (1" x 5" should have fit, but it didn't quite give the border I wanted cuz I'm not perfect at measuring)
Click any product pic to order!
Money holder:
Parakeet Party: 4 1/2" x 5 1/2"; scored at 1", 2", 3" & 4" across the 4 1/2" side and 1" and 4 1/2" across the 5 1/2" side
Have an amazing day!!