Good morning peeps!!
I'm finally here to give you MY perspective on our Greek Isles Cruise.
(and it's a long one! Grab your coffee and a comfy chair!)
Sorry it's taken me so long!!
I always struggle getting back into my groove.
And I can't promise I'll live up to Todd's performance….
It seems he was a hit.
I kinda love him, too! 😉
This certainly was a trip of a lifetime!
I'm here to tell/show you the SU! side of it. 🙂
FRIENDS
First thing I have to share with you is a couple quick pics with my friends we met last year that I've called my dinner family:
Lisa Marie, Cheryl & Steph–waiting for general session to begin
First formal night
Love these girls!
And the dining room staff made it possible for us to enjoy dinner together again this year.
They had to work hard.
And I'm sorry to the 3 people they moved from our table. :/
I have 1 regret; SOMEHOW we never got a pic with all our tablemates and waiters this year!!
(Lisa Marie & her husband & daughter; Cheryl & her daughter-in-law, different grandson from last year and daughter-in-law's parents)
How is that possible???
It was great to spend time with our friends!
And I feel like I/we met a lot of new people too!
I wasn't quite as "in awe" of being with this elite group of demonstrators as I was last year. 😉
So I just went up to people and introduced myself and Todd. 🙂
One of my highlights was meeting Sara, the CEO of Stampin' Up!
There's a difference between standing in a line wrapped around a big room at OnStage to get a pic with Shelli or Sara and just walking up to her and introducing yourself!
(I actually waited for someone to get done gabbing with her, and we chatted with her husband while we were waiting for her.)
So–I SHOULD have known this would happen.
But I didn't remember.
And when I walked up to Sara to introduce myself and hug her, I cried.
She's like, why are you crying?
It's just I appreciate her and her mom so much!
They both have such a heart for Stampin' Up!–their employees and demonstrators and customers.
I appreciate them.
So Todd got pics for me:
THE PILLOW GIFTS!!
If you haven't heard about a Stampin' Up! incentive trip before, nightly pillow gifts are a thing!! A BIG THING!!
We received everything from a purse/backpack to SU! product to Extra Virgin Olive Oil from Greece to a charm bracelet!
Sunday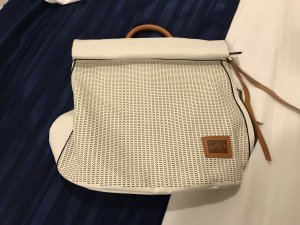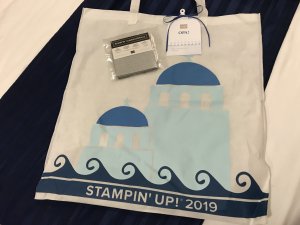 Monday
Most Wonderful Time Product Medley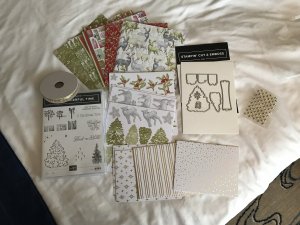 Todd's (1st Guest) Thank you gift
Tuesday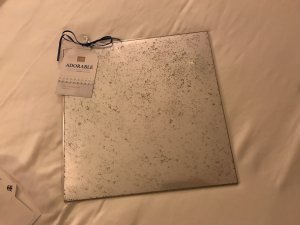 Wednesday
Custom (Perennial Essence) Cosmetic Bag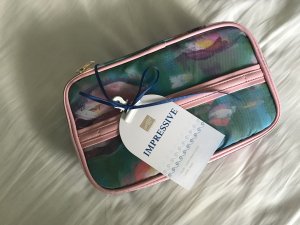 Thursday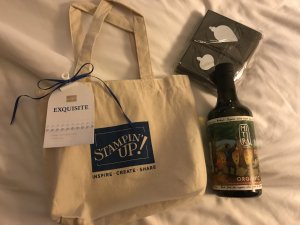 Friday
Saturday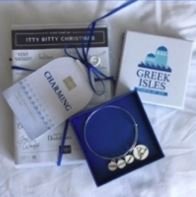 ALL the stuff!
Did you remember we got to make a visit to the SU! Hospitality Room every day for ANOTHER gift, too???
We got to "spin to win!"
Usually it was embellishments or DSP, but one day I received a set of dies from the new catalog.
Speaking of the hospitality room, I stole this pic from another demo. (I mostly left the picture taking to Todd, and I forgot this shot.)
They keep the jars STOCKED with candy!!!! (and leave bags for you to collect it and bring it back to your room!)
I believe I already mentioned within the past couple weeks that I TOTALLY MISSED BEING SPOILED!!
This was one of those areas I missed when we returned home! 😉
Where's my hospitality room???
No spin to win OR candy!!!!
We had a general session on the first full day at sea, and I walked out of there with 3 stamp sets and a pack of embellishments!
LOVE LOVE LOVE!!!!
THE SAMPLES!!
There is no way I can share all the samples that were on the cruise–Both from the Demo swaps and new product.
I think I prob have about 50 or so of each!
I'm sticking with Demo swaps, cuz you can't order from the new catalog yet anyway (and you saw some sneak peeks in my pillow gifts.)
I'll share closeups of the ones I actually received, eventually.
For now, here are pics of some of the boards: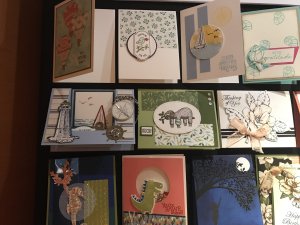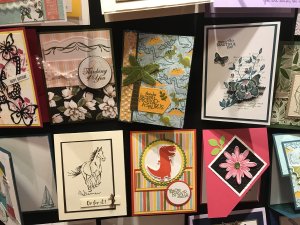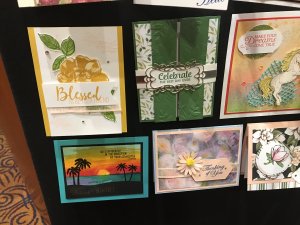 SANTORINI!!
So I recall Todd suggesting you ask me about Santorini.
I hadn't ever heard of it–until we looked up the Greek Isles Cruise I was trying to earn.
THEN it was the port I was most interested in visiting!
Reminder: To get to the city of Fira, where we were docking, you either need to take a cable car from the dock up the steep incline to the top OR climb 587 steps. 
The day we were gonna be in Santorini, 3 cruise ships would be at the port.
Because of this, we WEREN'T docking; we had to take a tender (smaller boat) from the cruise ship to the dock. It's a lengthy process.
Our tour company for the day decided on an alternate plan to avoid the long lines for the cable cars for such a busy port day….
They hired a boat taxi to take us around the island to the 2nd city we were planning to visit Oia (EE-ah).
Nice. Right?
Well, here's how it went.
We waited in the heat for ALL the people to tender to the dock.
We rode in the boat around to Oia.
(If you were inside, it was hot. I was; Todd was on top taking pics.)
When our taxiboat got to the dock, there was still a hill.
The 587 step hill to the top where the buses were.
In the heat.
As we got off the boat, the tour guide said to head up there; it's only [blah blah blah] kilometers.
EXCUSE ME??? You said KILOMETERS???
I'm not sure how this was an acceptable alternative to waiting in line for the cable cars!!!
It certainly didn't save any time!
We "started" our tour at least a couple hours late.
And I was hot and not happy.
I made it with a couple breaks.
Todd made sure I made it to the top and then went back and helped people.
It honestly was ridiculous.
And not what we signed up for!!
Ha! Then we drove to our parking place closer to the city.
Guess what? A hill to the REAL top. And more steps.
She guided us to the top to show us a specific church and said then we'd go back down the steps to regroup, and she'd send us off on our own before we met back at (whatever time.)
I told Todd, ah no.
We're NOT going back down to regroup. 
We're at the top for the shopping, and that's where we're staying til we're done.
The views were amazing, but I just needed some water at this point.
I drank most of mine.
I decided to stay in a shaded area leaning on a counter of an art shop visiting another demo while Todd went off to take his first pics of Oia.
I was so thankful for the shop owner.
I said, I hope it's ok that we stand here for a few minutes.
He said to stay as long as we'd like and then offered to fill our water bottles with his cold water!
OH THANK YOU LORD AND MR SHOP OWNER!!
Note: EVERYBODY in Greece buys bottled water, and thankfully it is very reasonably priced.
I forgot the name of the person I met there and chatted with. (I was in distress.)
But we chugged down that water and I went and bought more when Todd came back.
Now that I got my story out, I'll share a few more pics of Santorini that Todd didn't share.
I took this one specifically for Liz; the sidewalks in the shopping area are all marble.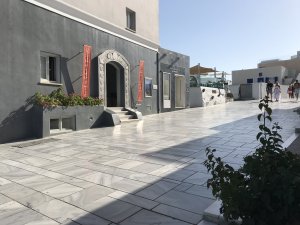 After Oia, we drove to Fira and had a half hour there. Todd & I stayed on the bus but I got this pic from someone who got off.
This is a different pic…fortunately we didn't have to walk back DOWN the hill. But I wouldn't have wanted to be the bus driver winding back and forth down to the bottom. I was trying to take a pic to show how close we were to the rock wall next to us!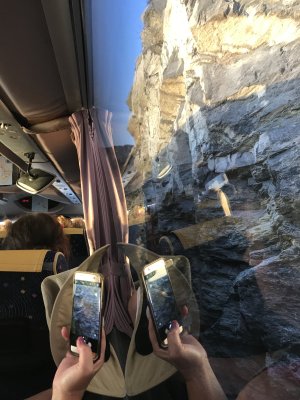 JUST A FEW DIFFERENT PICS I ENJOYED
I took a few pics for Liz of the brand name shopping in Rome.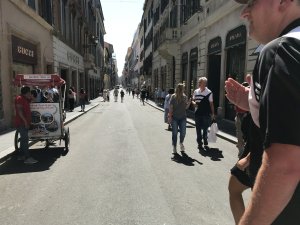 Our state room welcome on the ship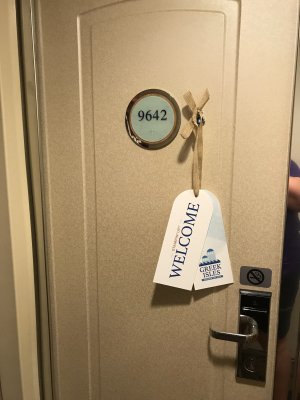 The SU! Welcome Party/spread–It was on both sides of the pool. 🙂
Clear water in Mykonos
THE STATS
I always like hearing the stats for the incentive trips:
There are just over 56,000 Demonstrators worldwide.
445 earned the incentive trip (enough points)
337 actually went on the trip
1000 Stampin' Up! people were on the ship (including families and corporate employees)
The NEXT trip we can work towards is an Eastern Caribbean Cruise on the Symphony of the Seas (the world's largest cruise ship)
One more stat to share in case you didn't see my Live! last week….
I EARNED THE INCENTIVE TRIP TO MAUI FOR 2020!!!
Thank you so much for all your support!!!
(And thank you to my Tuesday club last week for putting me over the top!!)
Ok, I believe I've gabbed long enough and have much more to do!
DON'T FORGET MY BOGO SALE TOMORROW!!!
Tuesday, 7/30, 10am-8pm
Choose from my Retired Product and receive–dollar for dollar–new product from the catalog, too!
You DO pay shipping and tax ONCE. (Example: choose $100 in retired product; also get $100 in new product; pay $100 + shipping & tax.)
Have an amazing day!!
Note: Less than 1% of all demonstrators earn the incentive trip each year.