Much like yesterday's blog this one will be heavier on pictures and less on words (you all didn't have to cheer at once…I do have a feeling).  Reviewing the pictures is tough as to to which ones to include as there is so much I'd love to share.  Again best to let the pictures speak and me get out of the way.
But before we go on, one funny story I remembered in the same vein as yesterday's post about someone randomly seeing my GV shirt and saying "I see you're from Michigan".  On our first Stampin' Up trip to Washington DC, I went for a run the first full morning we were there.  On this run I passed the White House and ran to both the Washington and Lincoln Memorials (not things I usually see a normal run around home).  So when I got back to the room I excitedly posted on Facebook about what an awesome morning run I had taken.  Shortly after we went down to begin the day's tour and we had the same bus driver as the afternoon before from the airport and obviously she had remembered me.  First words out of her mouth were "I see you went for a run this morning".  My mind went to the FB post I had just put up and I thought "OK must be I just sent that to the whole world?" and "who are you and how do you know me?"  Turns out she saw me on her way to work but I definitely was freaked out for a short minute.
The tour of Mykonos began with a walk around the city.  Fortunately it was mostly flat and although humid was not hot yet.  Mykonos' nickname is Island of the Winds, and right on cue they began to blow and that was a welcome relief.  We had a leisurely walk thru the main area full of small alleyways full of shops and rich colors against the white buildings (pictures will follow).
Next on the schedule was a half hour boat right to the Island of Delos.  Our group was composed of 40-50 SU people many who had undertaken the Santorini climb from yesterday.  A minimum of half the group just told the guide "Nope we're not going.  We'll just stay here".  The island of Delos is an ancient Greek city which is now ruins and 100% an archeological site.  They heard it was all walking and very little shade and hit the eject button.  Fortunately for me my wife is a trooper and we continued on.  As she shared with many people, "ruins are HIS thing".
The visit to Delos was supposed to last 2-3 hours, but we found there was an earlier boat back to Mykonos.  Even though ruins are my thing, I wanted to see what I could in the shorter amount of time and take the early boat back.  Now with the extra time back on Mykonos we were able to just spend a little more time walking the alleyways of shops and find some food.  First we stopped at a place that had 32 flavors of gelato (They must think Baskin Robbins are light weights).  Steph and I were on a nice run, having had gelato in Rome, Santorini, and now Mykonos (I think the streak was broken the next day in Athens, but I came back strong to have some in Pyrgos on the last excursion day).  Then we kept hearing from some other SU people about gyros, so we asked where they had found the best ones.  Normally I'm not a big gyro person but I really wanted to have one so we wandered and found the place.  It was so good and so big I could only eat half of it (picture to follow). 
I think Stephanie and I are in agreement that of the four Greek ports, Mykonos was our favorite.  With the winds off the water it didn't feel as hot as it may have been.  Also our time in the afternoon after Delos of just slowing down the pace and enjoying the beauty bumped it up to the top excursion day. (Rome doesn't count in this as it was not part of the cruise.  For me Rome and Mykonos share top spots of the trip).  Now let the words end and the pictures begin!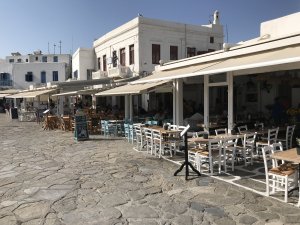 A couple sidewalk cafes that are along the waterfront. This was early in the morning so not busy.  In the middle where you see the light blue chairs we got gelato there later in the day.
This is a Church.  There actually was a Dior photo shoot going on where we got here.  We did have to wait a few minutes for them to take a break so we could get a picture.
The windmills of Mykonos.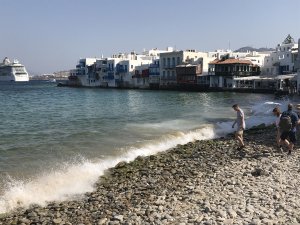 View from the windmills back to the restaurants along the coastline.  You can notice the wind has kicked up and a little surf crashing onshore. 
I think this was a shop not a house.  Love the color.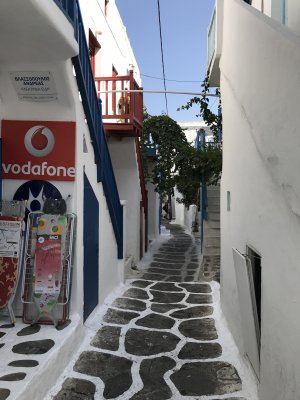 View of one of the many alleyways of shops.  Again early in the morning no people yet.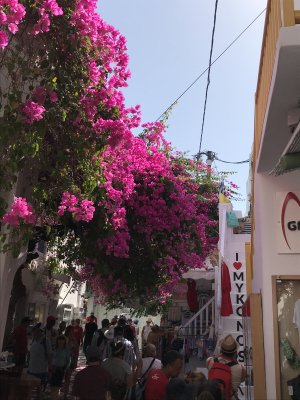 Another alleyway obviously now more people.  Notice on the right side the I love Mykonos which was on a staircase.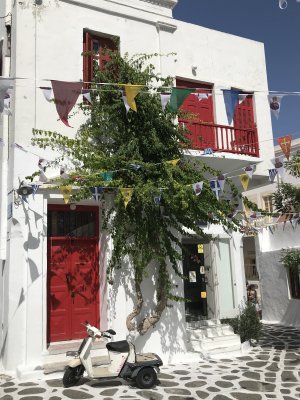 More color in the city.
Still more color.  Green is one of my favorite colors.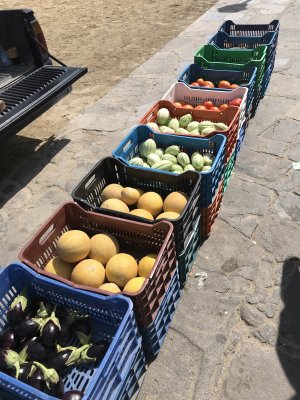 This was the "farm" market down by the waters near city port.
This obviously is the fish market right next to the veggies.  I'm guessing someone came and bought these, because later in the day during our leisure time I looked and there was no fish left.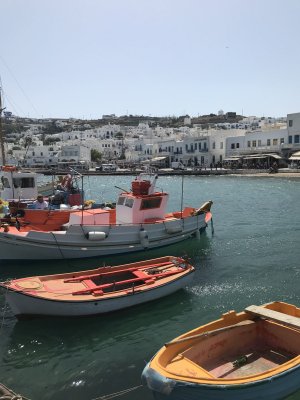 This is along the water right in the port with some of the shops across the way.  This is where I had a momentary fantasy that I was a professional photographer and I would take the colors of the boats against the city background and compose an award winning photo.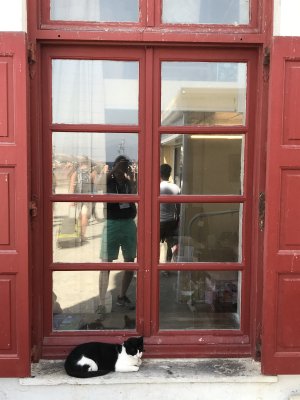 This is a stray cat near the main shopping area.  I took this with Liz in mind since she is a cat Momma.  This one looked pretty well fed.  I saw one earlier on the tour and he was big-time skinny.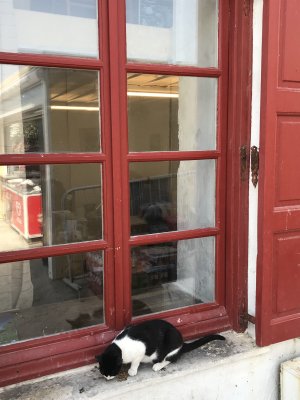 Minutes after I took the first picture I believe a tourist (Steph disagrees) had a water bottle filled with cat food and fed him.  All together now…"Awwww".

This is a shot of the island of Delos as we are approaching by boat. Honestly my first thought was "Unless she has a leash or something my wife may have lost me for the day".  Has anyone lost a husband in the ruins before?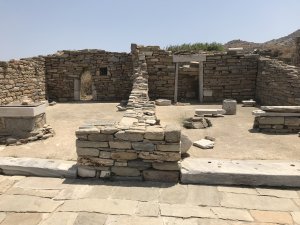 This would have been a couple shops in the city.
Random cool ruins picture I like.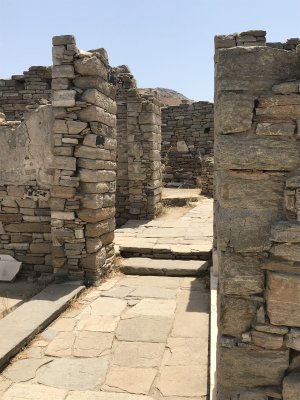 This would have been a city street.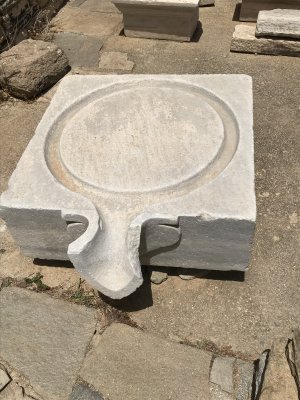 This is an ancient olive oil press.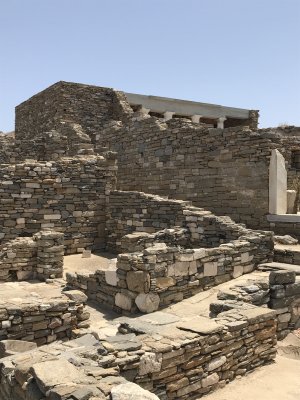 I badly wanted to get to the area at the top of the picture where you can see the columns…but it was blocked off.
Half of the gelato flavors.
Second half of gelato flavors.  You can blame me if you feel a need to go get some ice cream.  It's hot out so you really should.
This is the gyro I got.  Notice size comparison to Steph's hand.  My co-workers did not appreciate that I emailed them this picture right before their lunch time.  Cost was 4 EU, which is less than $5.  
Thanks for reading and thanks for the positive feedback!
Todd
Note: Less than 1% of all demonstrators earn the incentive trip each year.