One more funny story that I remembered about yesterday's Rome tour and then we'll be moving on.  Someone asked Valerio our Rome tour guide if they got snow.  He said "No we are the same latitude as Chicago, so we don't get snow".  It was really hard to hold my tongue and tell him that was really a poor comparison since living so close to Chicago I know darn well they get their share of snow.
So after a long and crazy travel day and busy day of touring Rome, I began the next day with some pretty lofty goals.  They were as follows:
1- Get a shower
2- Get 3 square meals today
3- Get to the bus on time which would mean I would be on the boat on time
4- Take a big ol' nap once we were on the boat
So I understand these are totally first world problems but I am happy to share with you I accomplished all of those goals successfully. The bus ride from the hotel in Rome to the port city of Civitavecchia was over an  hour and took us more into rural Italy. Rural Italy had the old world feel that I imagined it would have with farms, some crops, and hills in the distance.  Civitavecchia reminded me of the Italian version of Muskegon or Holland.  Obviously it had a large port area for the cruise ships, but also since it was right on the sea had a vibe that it was a vacation spot or maybe just a destination for going to the beach for the day.
Monday on the boat was a travel day at sea. The cruise was set up that all 4 port days would be Tuesday-Friday, so we treated Monday again as a rest day before all the excursions to come.  The highlight of Monday is Stampin' Up! has a meeting for all the cruise winners and their first guest (that's me). Mostly it is content for the demonstrators, as the newest catalog is previewed and some presentations with some of the new stamp sets.  I'm not gonna lie I MAY have nodded off during a presentation or two.  
However the 2 highlights of the SU meeting was first each first guest (mostly husbands like me) get a gift. We got a really cool bag/backpack from SU.  Secondly, the incentive trip destination was revealed for 2021 (2020 is an all-inclusive resort in Maui).  The 2021 trip will be a cruise to the Eastern Caribbean on the Symphony of the Seas, which is the largest cruise ship in the Royal Caribbean fleet.  
So I'll close for now with a few pics, and the promise that the next 4 posts will all longer with excursion stories and pictures of Greece.  I'm only on vacation for a few more days so I gotta get all these done this week.  Maybe Stephanie will post more than 1 per day??  But that's up to her as she's the boss, and I'm just living the first guest life!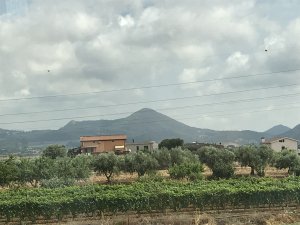 Looks like a field of grapes on the way to port.
Rural Italian countryside.
This would be a cool boat to cruise on, especially if you were a kid.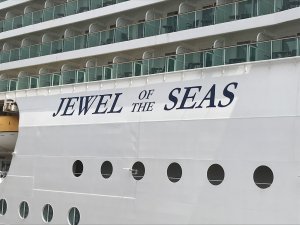 Home for the week.
View from out of our balcony of the Italian coast…not sure what city.
My Stampin' Up gift.
Until next time,
Todd
Note: Less than 1% of all demonstrators earn the incentive trip each year.