Hey Stampers–
Let's talk CUTTING BLADES!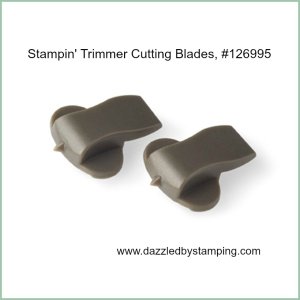 As you may or may not know, the Stampin' Trimmer is no longer available, even though Stampin' Up! is still in the process of designing a NEW cutter.
This obviously is not ideal…but there have been quality & supply issues for awhile.
As always, Stampin' Up! is committed to providing a QUALITY product.
That takes time–even if they ARE working with "responsible haste."
In the meantime, Stampin' Up! has committed to ordering replacement cutting blades for the retired Stampin' Trimmer through September.
But the supply issues didn't go away.
And when they're available, they go fast.
They are about to be in stock again, and I'm here to share what I know so far….
IF YOU NEED REPLACEMENT BLADES, READ BELOW:
Sometime within the next week or 2, SU! will be letting us know they'll be turning the blades back on for ordering.
They will give us a SPECIFIC DATE & TIME the blades will be turned back on. (I'm guessing they'll give us a day or so "heads up.")
There will be a max quantity of 3 pkgs (sets of 2) you can order.
Stampin' Up! is trying to provide this supply in the fairest way possible.
You have 2 options:
The BEST option–to more likely allow you to be able to order them before the stock is depleted–is to

order online YOURSELF

. Yes, there will be a minimum shipping charge….maybe you have other things you need to order?

I can try to order them for you

. There would be no minimum shipping charge BUT–

This option takes more of a chance of NOT being able to get them because I have to enter EACH person's order and payment, which will take longer. If I can't close the order before the supply is depleted, I get them for no one.
IF YOU STILL WANT TO TRY THIS OPTION, I would be happy to do it! But I NEED TO KNOW NOW–BEFORE the set date and time we are given. I will NOT hold the order open waiting to see if anyone has a need, and I won't accept any orders after the time given.
ONE MORE CONDITION: if the supply isn't opened up before July 5, I can't help you. We're leaving for our trip then.
So again, if you want me to try to order for you, TELL ME NOW. And tell me how many please.
If you have any questions, please let me know! 🙂
Have a good night!