I have BASICS I keep in mind for the seemingly difficult task of designing a masculine card.
Since I had a fun class with Geared Up Garage this week, I'll show you those ideas first.
From simple to a little more involved….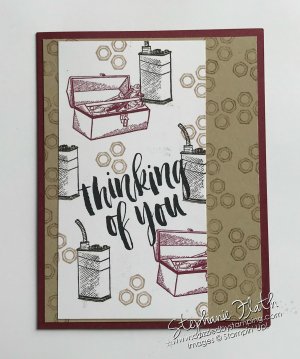 NOW, as you read my "basics" of a Masculine Card, see if you can find some of them on the cards I just showed you above.
(When you design, you don't have to take ALL these steps to make your card masculine. Pick and choose what you like or have available. Remember, sometimes less is more!)
My 4 Basics of a Masculine Card
STAMP SET–Even if you don't have a set that is specifically masculine, one that involves nature or graphics (shapes, lines or textured background type stamps) works great!
COLOR IS EVERYTHING! If you're unsure of a color to choose and don't just want "BLUE", go for anything that is a deep or neutral color. Some of my go to's are Mossy Meadow, Merry Merlot, Night of Navy, Basic Gray–or ANY gray, Crumb Cake–or ANY brown. You could even use Blackberry Bliss with the right stamps/design.
METALLICS!! I ALWAYS LOVE a masculine card with some kind of metal–whether it's foil sheets like on my last card or brads or a metal buttons or embellishment. Metallic goes a long way towards a good masculine look.
TEXTURE–Choose something simple like stripes or corrugated folders or EVEN just crumple up your cardstock after you do your stamping and flatten it back out again. Rough it up! (Unless you count the gears die cut piece on my last card, I didn't really use this "basic" on any of my cards above. As I said, you don't have to use ALL the ideas. But maybe that's the one that will work for YOU!)
I hope that helped you with any last minute ideas you may need!
Reminders:
Don't forget to sign up for classes!
http://www.stampinup.net/esuite/home/stephanieflath/events?month=6&year=2019
FREE GIFT FROM ME: Use host code 2626GRH6 on a minimum $50 order in June and receive a pkg of  gorgeous Noble Peacock Rhinestones!
NEW REFERRAL PROGRAM–& CONTEST
I have FREE Class Passes available for you to give to friends & family (NEW to me/haven't come to a class of mine before.)
Put YOUR name on them, and when someone redeems one, you'll get credit for the referral.
The person with the most referrals will receive a $10 gift certificate toward free product.
This first contest will run through 7/31/19.
I'll give you as many Class Passes as you'd like! You can pick them up, or I can mail them to you.
FRIENDS FOR CARDS & CARDS FOR FRIENDS
BRING a new (to me) adult friend to a class or club, and you'll each receive 3 cards of your choice from my card rack.
These cards are also available to purchase by anyone–$2 each or 3/$5.
Have a wonderful weekend!