I updated my Events through July 30!
One of the classes I added is the Geared Up Garage Card Class on June 11. (I said the wrong date on my Live!)
When I was looking at pics, I realized I never shared this one on my blog from my Stamp-a-Stack:
Here's a quick pic of my classes you can save or enlarge…doesn't include Stampers Clubs or Dazzling Demos Team Events–OR my Greek Isles Cruise in July! 😉 …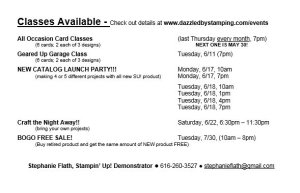 Download CLASS LIST.thru 073119
Here are links for you to check out or RSVP!
ALL OCCASIONS CARD CLASS – Thursday, 5/30, 7pm
GEARED UP GARAGE CARD CLASS – Tuesday, 6/11, 7pm
NEW CATALOG LAUNCH PARTY:
CRAFT THE NIGHT AWAY!! – Saturday, 6/22, 6:30pm – 11:30pm
BOGO FREE SALE – Tuesday, 7/30, 10am – 8pm
Can't wait to see you at my classes!!
If you'd like to schedule your own workshop or a private class, let me know so we can schedule a time!
Enjoy your weekend!