Good morning!!
If I didn't mention already, the Gingham Gala DSP is no longer on back order.
Yay!
ALSO if I didn't mention already, I LOVE IT SO MUCH!!!!!!!! 😀
Here it is with So Hoppy Together–one of the sets you can earn FREE during Sale-a-Bration (SAB):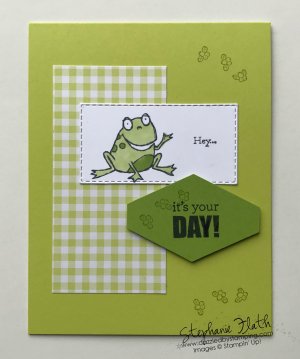 Early "heads up":
If you love the color Lemon Lime Twist (shown here on the card base and DSP)–or Powder Pink, Tranquil Tide, Berry Burst or Fresh Fig–start thinking NOW about stocking up on cardstock and ink refills.
These In Colors will be retiring with the new catalog in June.
BUT–what USUALLY happens is they run out of stock earlier than that!
Soon (mid-April?) Stampin' Up! will release the list of retiring products, and people will remember they need to stock up before they're gone….
And then they are. GONE.
Here are links to stock up NOW:
And here's what I used on my Hoppy card:
Thanks for stopping by today!
Hope to see you on my Live! later this morning! (10:30am ET)
Have a Hoppy Day!