Girly and masculine all at the same time! 😉
Ya gotta love swaps like this!
Jenna even made it a vertical Z-fold.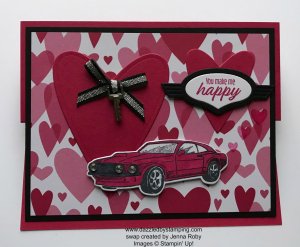 Happy Valentine's Day!! ♥
Lest I seem all mushy, I'll leave you with this gem I enjoyed this week:
Love it.
Have a great Thursday!
at work. 😉
Oh!! I'm doing a random Facebook Live! again at 10:30 this morning!
New SAB options are coming tomorrow, and I'm giving you a sneak peek, along with a tip and a technique!
Go here: www.facebook.com/DazzledByStamping
(I'll post YESTERDAY'S Live! this afternoon.)