FIRST…..
I forgot to post yesterday and thank everyone for participating in the #makeacardsendacard challenge!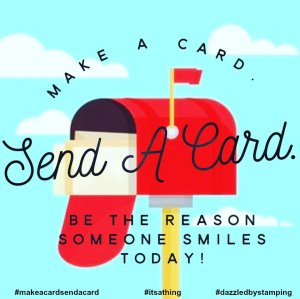 I'M sending cards to Dalia Marin, Daphne Shutts, Nadine Stolt, Diane Bow, Kathy Polderman, Stephanie Buzalski, and Cheryl Lentz! 🙂
SECOND…..
I still have stuff to show you from my Hostess Appreciation Party!
Everyone made one of these cards featuring the Butterfly Beauty Thinlits and SAB Foil Sheets:
I completely copied this idea from fellow demo Ronda Wade.
As I was finalizing my projects for HAP, I saw this and KNEW we had to make these!!
You can tell in the top one a little better…while the Lovely Lipstick Foil Sheet (I used it on my "love" card last week) in this SAB pack is simply shiny, the Grapefruit Grove is irridescent!
GORGEOUS!!!
I AM doing a class with this bundle (pg 13 of Occasions Catalog) on Monday, 4/8 (morning and evening.)
And even though SAB will be over by then, I think we still need to do a simpler version of this card at the class.
You can sign up or read details here: 4/8…morning OR evening
Have a MAGNIFICENT day!!!
Don't forget to tune in to my Facebook Live! in the morning!
www.facebook.com/DazzledByStamping