As you may have read–or been there–I had my Hostess Appreciation Party Saturday.
It was so fun–and I'm very thankful…for so many things.
OBVIOUSLY–I'm thankful for my customers/hostesses!
I'm thankful for my Dazzling Demos Team. (I always invite them to my HAP, too.)
I'm SO THANKFUL FOR TODD.
Not only does he help/support me through the whole year; he ALSO takes the Friday off before HAP to help me cook!
I'm VERY thankful for the weather cooperating!!
Thursday was good; we had last minute shopping/errands.
Friday was BAD; but we were cooking/prepping inside all day!
Saturday was good; so thankful for ALL MY PEEPS traveling from every end of town–Saugatuck, Holland, Wayland, Greenville (& farther), Ada/Cascade, Caledonia to be here!
Sunday was awesome; I had to travel for a memorial for Nadine's mom.
Monday, Tuesday…………yuck. But my party is done.
Thank you, Lord!
I hope all of you are staying safe out there!
I'm not going anywhere. 🙂
Ok, I have LOTS to share with you!!!
So I'm gonna break it up over a few days.
I'm gonna START with the PEOPLE (and the room).
TODD TOOK PICS FOR ME!!! Thank you, Mr Man!
(I'll share projects and Card Contest later.)
So, first I wanna share my longest official running club!
I forgot…somehow I looked up and was able to figure out dates recently:
My official start date with Stampin' Up! was January 9, 2002
My first ever workshop was February 5, 2002
My Saturday club started March 5, 2005; YES!! We've been meeting every other month for almost 14 years!!!
Mary DeWit is missing (she's now a winter Floridian); Hope Ward had to drop a couple years ago, and Heather Cook hasn't been in the group for several years, but the rest are here–and they swap cards every time, too! Like SO MANY OF YOU, they are family. We laugh and cry together. Love you, girls!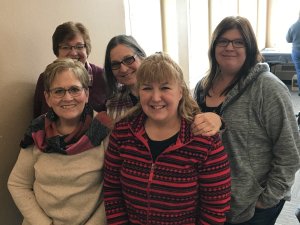 Another person I had to point out is Diane Field.
She and Elaine Brunink (who couldn't make it this year) have been with me since the beginning–17 years. They both missed my sister Teresa's first workshop for me, but they were at the next work one the following month. Their Endoscopy Department at Spectrum Butterworth became my first UNofficial club. Teresa was first hostess; then Karen Armock and I forget from there. BUT–it became dinner and stamping EVERY MONTH and whoever could be there went to the hostess's home. When too few people were still doing it, Diane, Elaine and Teresa joined an "official" club with me. I called it my Endo group for a long time. 🙂
Here's my Dazzling Demos Team that could make it: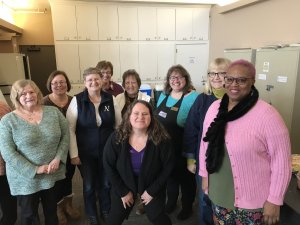 Ok here's the rest: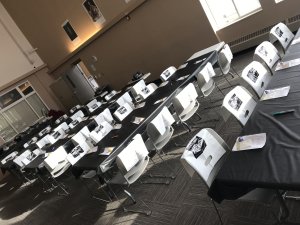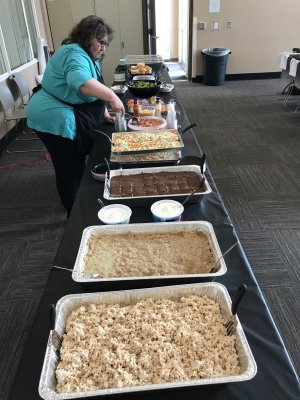 Todd says start with dessert first! His Apple Betty is a required item for HAP! 😛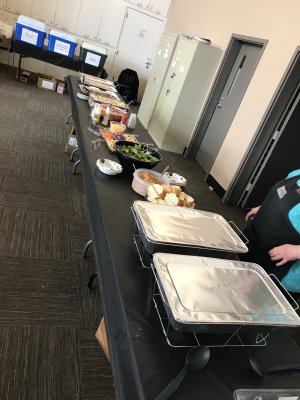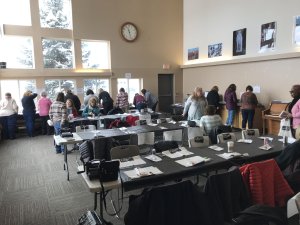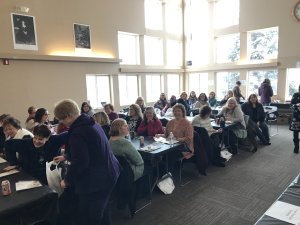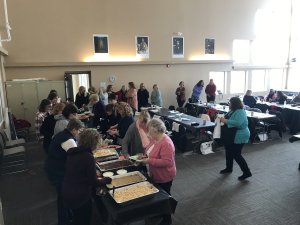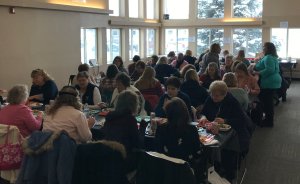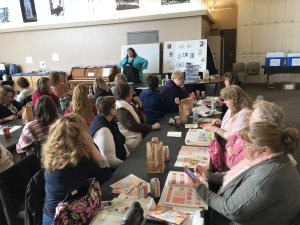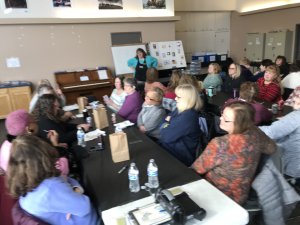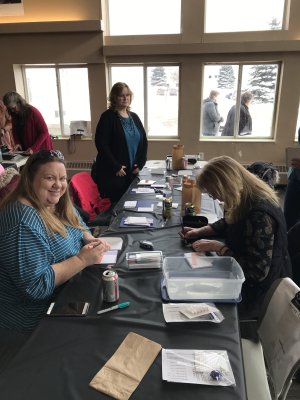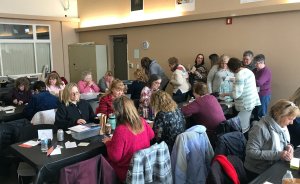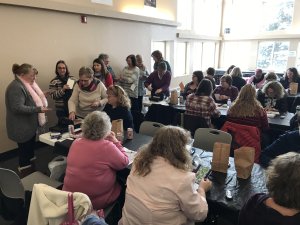 If you wanna come to my HAP next year, have a workshop with me!!
or have a book party!!
or join a club!!
or join my Dazzling Demos Team!!
(book parties or workshops require a minimum $150 in sales to qualify)
We have so much fun!!
Have a safe day! Stay warm!!