Hey Stampers–
I'm skipping a day of swaps to give you my latest Facebook Live!
First of all, A NOTICE:
Still need to drop off your Contest Card for HAP?
Come anytime and tuck it in the bag I have inside the FRONT door.
Just text/email me when you've dropped it off.
No worries if I'm out running last minute errands.
Thanks!
Second, a QUESTION:
Do you LIKE that I've been adding it to my blog, too, the next day???
(Please comment.)
I know it's a rerun for those of you ON Facebook with me….
But I know there are some of you who just aren't on Facebook at all.
Third, I have some product availability news to tell you:
The SAB Ribbon pack is sold out!!! And the item is turned off. It was EXTREMELY popular!! (SU! said probably their most popular SAB item ever!) My understanding is there's another shipment of ribbon expected in early March. It will be turned back on at that time and will be available WHILE SUPPLIES LAST. I'll let you know when that happens.
Another item that far outsold SU!'s expectations is the Butterfly Duet punch; it's on back order and not expected to be in until April 1!! (That date changed yesterday already.) RIGHT NOW the item is still turned on, but my guess would be that will change. If you order the Butterfly Gala bundle now, you'll still receive the stamp set right away.
The Gingham Gala 6×6 DSP and Whisper White Flax Ribbon are on back order and expected around February 18. Clearly this whole suite was amazingly popular! (I ADORE all the coordination!!!)

These back orders could potentially affect the Butterfly (Gingham) Gala classes I have scheduled on February 19. HOWEVER, at the moment, I'm still planning to continue them as is. If you sign up , YOUR product will not make it here by the time of the class. But it should arrive shortly after–and with the possible exception of the ribbon, I have enough to cover your making the projects I have planned.
I realize back orders are always a bit disappointing, but when Stampin' Up! puts out such fantastic products, we simply can't resist buying it all up!!!
I truly appreciate your patience with the back orders, and we're still gonna be playing with it at classes and clubs. 🙂
Ok–ON TO THE FACEBOOK LIVE!
…featuring the Made to Bloom All-Inclusive Card Kit (It's so easy to make!!):
Here's the completed kit and contents up close:
(oh–except the envelopes; I forgot to photograph those)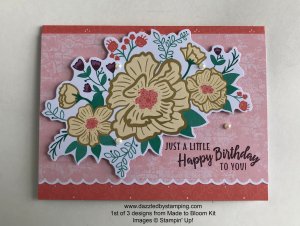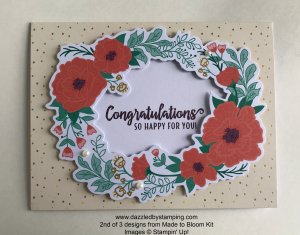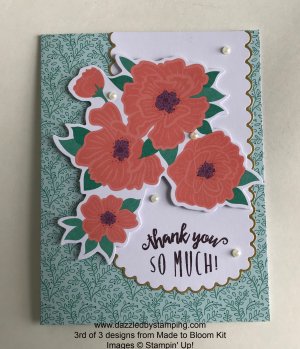 Here are a couple extras I made with the stamp set when I was done: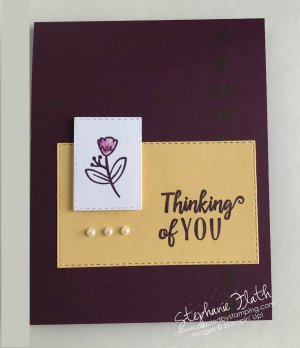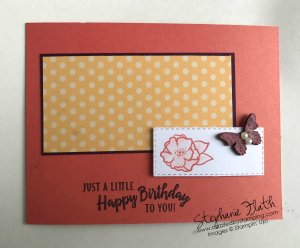 Look at the teeny, tiny hearts that make up the center of this flower!!!!!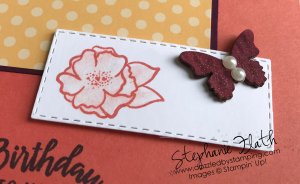 This butterfly is one of the (wood) Butterfly Elements from the SAB freebie.
I just colored it with my markers. 🙂
Ok, have a wonderful day!!