Happy Tuesday, peeps!
There's still a lot of new stuff on the Clearance Rack!
Just need a thing or 2?
If so–and you have a credit card on file with me–let me know before 7pm tonight what you'd like, and I can order it for you!
Then I'll let you know when it's here!
Remember to use my hostess code AC26PBKC to get a freebie with a $50 order as well!
Besides reminding you of the Clearance Rack, I wanted to show you a couple items from my Christmas Stamp Camp a couple months ago.
I should have shown this first one awhile ago, but I don't think I did!
I combined a couple ideas I've seen over the past few years:
On the cruise we saw an amazing display with a candle embellished with our Tranquil Textures Sprinkles.
I have ALWAYS LOVED the table displays of wine glasses upside down with Christmas bulb ornaments inside. Can you believe I found the candle, wine glass and bulbs at Dollar Tree??? (This is one full package of bulbs.) And yes, Dollar Tree is a TRUE DOLLAR store!
This next project features the Takeout Treats bundle–which is retiring January 2: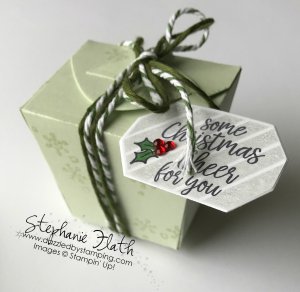 I prefer simple, like this.
But what MADE ME NEED this Takeout Treat bundle was Jacque Williams' display at our Fair Share on the Alaskan Cruise!
THIS guy.
I made ONE of these.
I HAD to!
But then I was done with that much work. Ha!
Ya know, I LOVE STAMPING!!!!
If I've never told you, it is the ONE CRAFT I DO.
I never had a craft until I found stamping.
But part of the reason I LIKE stamping so much is the INSTANT GRATIFICATION of it!!!
I can make an adorable card pretty quickly!
And that's my love!
But occasionally I need to throw in something like Takeout Frank. 😉

Don't forget about my Facebook Live! tomorrow morning, 10am!
Click here for my Facebook Business Page.
Have an exceptional day!!
(Now back to finishing my Christmas cards! Did you see my tip on Facebook? My Aqua Painter is getting a good workout "licking" my envelopes for me! )