The deadline is tomorrow!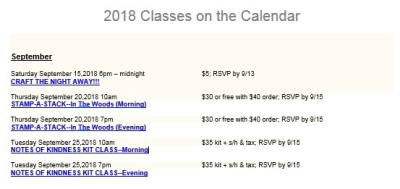 (In the Woods) Stamp-a-Stack is next Thursday, 9/20 – 10am or 7pm; $30 class fee or $40 order; RSVP
 3 each of 5 designs
(2) Winter Woods (pg 27, Holiday Catalog)
(2) Rooted in Nature (pg 143, Annual Catalog)
(1) Lovely As a Tree (pg 148, Annual Catalog)
Here are a couple projects we'll be making: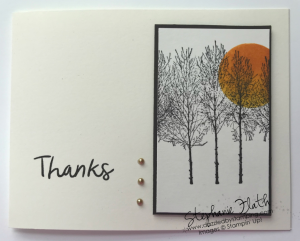 Winter Woods
Rooted in Nature
Believe it or not, this color is Petal Pink!!
I ended up really liking the color combo (with Soft Suede.)
 
Notes of Kindness Kit Class is Tuesday, 9/25: 10am & 7pm; class fee is the cost of the kit; RSVP
The kit/class includes everything you need to make 5 of each of these beautiful cards!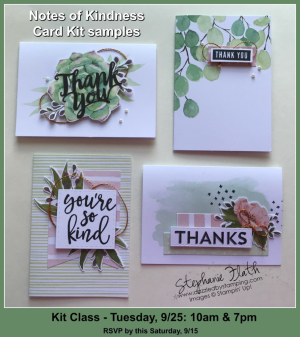 Click the links to sign up–or text/call/email me!
ONE MORE: 
Wanna craft with me all night???
We're Crafting the Night Away tomorrow!!
Home School Building (HSB), 5625 Burlingame SW, Wyoming, room 13, 6pm-midnight
Only $5 this month; bring your own projects for a fun ladies night!
Have a fabulous weekend!!!