But where do I start???
(edit: it's a LONG one–even though I'm breaking it up! You know…gabby me.)
We had an ABSOLUTELY AMAZING TRIP!!
The weather was just PERFECT.
And we were completely spoiled–by God (see the weather comment + ALL His creation we got to enjoy!), by Stampin' Up!, and by the entire Royal Caribbean crew!!
For OUR particular trip, we brought entirely too much clothing.
All our prep was for nothing!
But who knew???
No rain. No snow. No CLOUDS!!
(no need for umbrellas, ponchos, thick sweatshirts, hat and gloves…)
There was fog out at sea the last few days–but maybe just at night.
Our first port–Juneau–I sweat like a pig cuz it was shorts-n-tshirt-weather, and we were both wearing jeans and packed too many layers–just in case–so heavier, sweaty backpack.
But I am NOT COMPLAINING, mind you!
It was fabulous!!
Sorry this is such a late post–especially for those of you who get your emails at work.
Still getting back to reality (I'm slow at that.)
Reality isn't so bad.
But did you realize now you have to cook and stuff???
Haha!
Completely serious–we went grocery shopping Saturday morning, and I stood in front of the cottage cheese, honestly wondering "which one do I usually buy?"
Update for those of you on facebook: I bought the wrong one.
:/ goof.
I think the only reason I brought the correct BRAND was because it was on sale!
So I decided this week is gonna be a combo share week.
(There's so much to share; it may extend beyond a week!!)
Maybe I'll try to share the 7-day cruise in 7 days….
So I'll share some tourist-y stuff and some SU! each day.
TOURIST-Y
We were welcomed to Seattle by Mt Ranier–from the plane!
The tour bus driver that took us to the ship from the airport said there's a saying in Seattle that, "the mountain is out today." It certainly was!! And we were so excited!! I don't think my phone was zoomed in at all.
We're ready!
This next pic is the wrong ship (but it was the same size and docked in front of ours and I liked the angle of the pic better), and it's a completely different day, but I wanted you to see how enormous the ship is!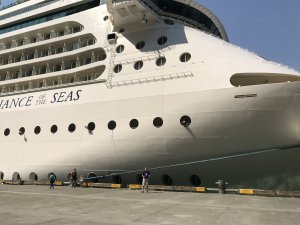 Yes–this is our 6'5" tall Todd standing in front of the ship.
Can you SEE him???
The beautiful Seattle skyline as we're leaving the port.
Oh. I guess there were some clouds in Seattle. 😉
The rest of the day was lunch, exploring, naps, supper, a SU! Welcome Reception and the INCREDIBLE STAMPERS BASE CAMP!
I'll tell you more about Base Camp later, but first meals.
Our assigned table fit 12 people! Yay!
We had that the first night; by the 3rd night, we were down to 8, and they all became our cruise family.
Dinners with them were some of the highlights of our trip!
2 other Demonstrator couples + one couples' grown son and 15 year old grandson (1 of 8 kids).
And of course, we had our waiter Bernardo and assistant waiter Shirish each night.
They waited on us hand and foot–and by the 2nd night had our typically chosen drinks at our table shortly after we sat down.
We were pampered! I miss them. 😉
The food itself was really good–some much better than others–but I guess not exactly the quality I expected.
Did you know you can order as many appetizers, entrees, desserts and [included] beverages as you'd like on a cruise????
So it's the perfect time to try something new!! So I made that my goal.
If I didn't like it, I couldn't always order something else!
Btw, sorry–I am NOT a picture taker of food.
But I tried lamb shank, duck, beef mousaka, seafood ceviche', and flounder.
I could have tried rack of lamb later, but I didn't want lamb twice.
Todd tried beef bourguignon, escargot–and he deemed himself "cold soup guy."
Except for the first night, he tried a cold soup each night.
The first one that caught his eye was banana rum. "I'm all in on that!"
He also tried blueberry & yogurt, pineapple lychee with coconut, roasted peach, mango pineapple and strawberry bisque.
He loved them all!
But as I kinda said, our favorite part of dinner was the company and the service!
I'll share our last night pics later in the week. 🙂
SU! STUFF
So first let me explain Stampers Base Camp…
We knew posted hours each day–basically 8am-6pm with maybe an hr or 2 break for lunch on some days.
We could ask corporate people questions or go there to hang out with other demos.
We could go there EVERY DAY to spin for a prize. (You always GOT one; it just depended on which one…something new every day.)
I don't think I took pics of those prizes.
It was usually ribbon or DSP or a punch or embellishments or an embossing folder. ♥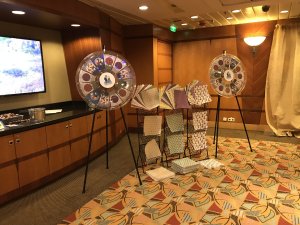 Or we could just load up on candy!
Every surface had tubs and bowls and canisters of candy!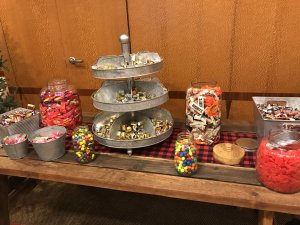 This was an EMPTY time of day!
The day everyone could pick up their swaps and see all the swaps displayed was CRAZY FULL!!
OK ON TO PILLOW GIFTS!!
Stampin' Up! certainly knows how to spoil us all!!!
I think I told many of you (or you may remember from DC or Newport Beach),  we get a pillow gift EVERY NIGHT!
I LOVE THAT TRADITION!!!!
I forgot to take a pic before I tore into it, but let me just say–besides spoiling, SU! is all about presentation!
Each gift has a card like this and almost all include an adorable [canvas? linen?] drawstring pouch. You'll see those later.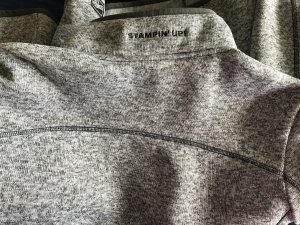 And yes, this folder will be in the Holiday Catalog coming soon!
Our first night ended with lots of tiny little hors d'oeuvres and slushie drinks or pop in a big theater filled with demonstrators and their guests.
And we were READY for bed!! 
Thank you again for all your support!
I appreciate you!!
Don't forget a couple promotions are ending tomorrow.
I'll be more specific tomorrow.
For now, I'm done talking.
Miracles never cease! 😉
Tomorrow…general session, announcements, fancy dinner and new catalog samples!
**Truth in advertising: less than 1% of all Stampin' Up! Demonstrators earn the incentive trip each year.