Haha! That sounded like Jungle Love.
Remember that song??
Have I mentioned I'm IN LOVE with the Share What You Love bundles/suite??
As you may remember, I'm having a FREE CLASS tomorrow for anyone who orders one of those bundles by tomorrow.
Here's a card Judy Cole made at our Craft the Night Away earlier this month: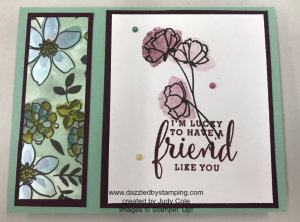 I just ADORE it!!!
Can't wait to play with the bundle tomorrow!
Are YOU coming???
Click here to order: SHARE WHAT YOU LOVE BUNDLES
Have an amazing day!!