Mother's Day happens to be a little over a week away!
Do you need a card?
We made this one at my Stamp-a-Stack last week: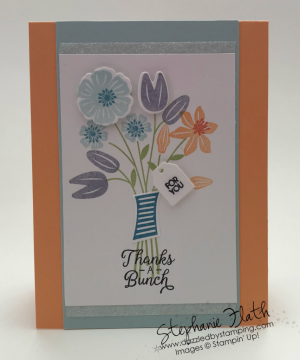 This Beautiful Bouquet bundle will still be available in the new catalog–but it will be UNBUNDLED.
One of my favorite parts is the words/font in the set. 
Love.
And there are so many pieces to the framelits!
How fun is that tag???
SO MANY of these colors are retiring, too!
Peekaboo Peach, Soft Sky, Wisteria Wonder, Island Indigo
Don't they make a stunning bouquet?
This bouquet admittedly is a little labor intensive.
But the end result sure makes me happy!!
Here's everything you need for this beauty:
Product List
So what are YOUR plans this weekend?
Are you coming to Craft the Night Away with me tomorrow night?
If  you are but haven't signed up, CLICK HERE!
Have an amazing weekend!