Dave Amerson is from my church, and he's is missing.
But he's not just any man.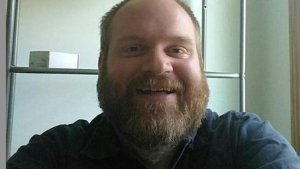 He's my sister-in-law's brother…
Some of my nieces' and nephews' uncle.
"The favorite uncle."
I babysat him when we were young.
He's family.
His disappearance is very uncharacteristic.
And there is an organized search at his property in Dorr this afternoon at 2pm.
We're going.
He would be the FIRST one to help if WE needed it.
Please share this email or pics or any links I'm providing below.
And please pray for the family.
Please feel free to share this email or any links I'm providing.
I'm copying and pasting some of the info here.
Thanks for praying or sharing or whatever is on your heart to do.
Details of the original post:
Please be praying for our family. Our brother David Amerson is missing. We have no idea where he is. His cars, keys, wallet and phone are at home with no recent calls, texts, or emails. He has been missing since sometime last night (3-9-18). He left my brother's house after a movie night, showing no signs of depression or anxiety or anything. He was supposed to work on his house with Colton, Layne, Hugo, and I with my parents this morning and seems to have vanished. Please pray that he will be found! We will keep you informed as we can. Police have been incredible. They have brought K-9s to search his land until dark and will be bringing drones tomorrow. (David is the one on the far left) Please contact Allegan County Sheriff or Dustin Amerson 616-890-0806 if you have any info of his whereabouts. Thank you in advance for sharing, it means the world!