Here's what 100 swaps look like–in process:
This is what I got done at our Craft the Night Away!
Here's what my OnStage Milwaukee swap will look like:
(Yes, the black is a Stitched Shape, too. Remember? My favorite set of dies!!)
We had a smaller group Saturday night, but it was still fun!
And I was thankful to get all this work done!!
And I have to tell you, once I stopped my "Big Shotting" for a bit so I could stamp and try out my Stamparatus, I kept letting out little squeals!
It's an amazing tool!
Here was my set up: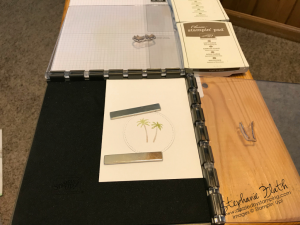 As you can see, I have both plates in the top and side hinges, so I could quickly ink up each stamp and perfectly place my palm tree each time.
I used the tips from the #4 Stamparatus Techniques Video and had a template in place for my Stitched Shapes Circle each time.
I could easily slide one of the magnets a bit each time I needed a new Stitched Circle.
Here's the technique video again:
Oh–and by the way, the group that was still there Saturday night decided our next Craft the Night Away will be Cinco de Mayo style! 😉
Mark your calendar to come to our fiesta–Saturday, May 5. 6pm-midnight (or any part you're available!)
I'll be adding the event to my calendar shortly.
Here's the product list for my swap:
Have a fabulous week!!!