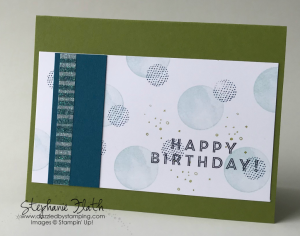 I promised you a thank you today–using the new SAB set Eclectic Expressions.
But I decided to switch up my thank yous this month for my customer orders. 😛
I figure EVERYONE can probably use a birthday card.
Plus I just liked this font.
You know I'm big on fonts….
A lot of my thank yous go to my club members each month.
ARE YOU CONSIDERING JOINING A STAMPERS CLUB???
I still have 1 (or more) spots open in my club that is restarting next week!
Please contact me soon if you wanna join us!
We meet the 4th Tuesday of every other month (even months.)
Here are the supplies I used on my thank you:
Have a fabulous week!