SOME of my customers think I've turned a new leaf [no pun intended] and will become ADDICTED to coloring!
I seriously doubt that will happen.
HOWEVER, I DO plan to gradually get all the Blends that are available.
They really do make me look like I can color.
Here's another example of that: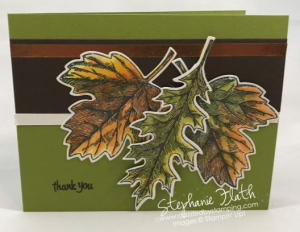 YES.
I colored that.
For real.
All 3 leaves.
*Ü*
Here's all I used:
Reminder–you HAVE to use the Memento Ink Pad with the Stampin' Blends AND you need to let it dry before you try coloring it.
Have a wonderful day!!!