Have you been doing your Black Friday shopping already??
I have to admit I've done a little shopping myself!
Normally–not surprisingly–I'm kind of last minute. 😉
The Stampin' Up! Online Extravaganza started at midnight Mountain Time with a 24-hr Flash Sale!
Do YOU or your friends have Stampin' wishes?
Grab a cup of coffee and CLICK HERE to shop!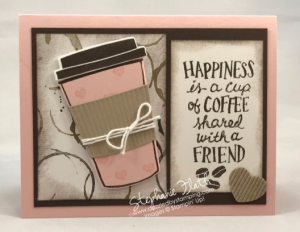 This card was one of the Birthday cards we made at my Bringing Birthdays Back Stack last month.
CLASSES NEXT WEEK
You can sign up for this month's Birthday Stack HERE.
(11/28, 7pm…sign up by this Saturday)
Also sign up for my Glossy Cardstock Techniques Class
(11/30, 7pm, CLICK HERE by Saturday)
Here's what we used on my coffee card:
Have a fabulous day and week!