Saturday was a BUSY DAY–but for all good reasons!
My morning was filled with a few cuties in a Mommy & Me Class!
We scheduled this one special, and I asked Abby if she wanted this pizza box even though I'd done it before.
YES!! (was her answer) 😉
We all had fun!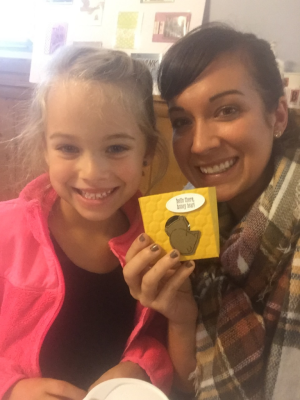 It's funny–we didn't get a pic with the kids with the other project.
But that's ok, cuz then I can share it at more classes coming up.
And I'll share here–eventually!
Here's instructions for the Honeybear Pizza Box:
I don't think I posted these last time!
And here's the product list:
If YOU'D like to schedule your own personal Mommy & Me Class, contact me & sign up with a friend! (At least 2 M&Ms is preferred)
Remember, you each could bring your child, grandchild, niece/nephew, neighbor, etc.
Suggestion: they should be at least 3 or 4 years old–or mature enough to follow instructions on a project with your supervision. (YOU know if they're ready.)
Have a fabulous day!
I'll share more about my Saturday tomorrow!
Save
Save
Save