Every Christmas season I look for a stamp set that captures the real meaning of Christmas–the celebration of the birth of Jesus Christ.
But I'm kind of picky–the words, the fonts, etc….
Well, this year I really love the set Night in Bethlehem for those reasons!
And it works perfectly with a card sketch I've always wanted to make but never have.
We made it at my Christmas Stamp Camp on Saturday:
I LOVE the shining star!!
And making this with the Merry Music Specialty DSP worked perfectly!
When I made this sample, I placed the die cut pieces first.
THEN I made a mask and did the sponging.
For MORE cards, I suggest placing the mask and doing the sponging.
Then place the die cut pieces.
By the way, Todd even mentioned that he liked this card. 🙂
He's not usually very verbal about my cards.
Ha! He made me guess which one I thought he liked.
(He helped me set up, so he saw them all ahead of time but didn't mention til we were taking down.)
And yes. To his surprise, I guessed the correct one. 😉
Here's what we used:
And here are 2 quick tips for you:
Before die cutting Glimmer Paper, you can fairly easily remove the protective coating/backing from it to make cutting through it more crisp!
GENERAL: with all the paper I cut with my Stampin' Trimmer, my blades seemingly get dull pretty quickly–and I hate fuzzy edges!! I know that cleaning out the track helps correct that problem. I've always just used my paper piercing tool. HERE'S THE GAME CHANGER:

Use a baby wipe to clean the track!!!

Aaaahhh!! It helps so much!!! I pull the track (called a replacement mat) right out to do it. The results make me so happy! 😀
Have a fabulous day!
ps: You have less than a week to take advantage of the Buy 3, Get 1 FREE Designer Paper!
oh–but the Merry Music isn't included in this deal. :/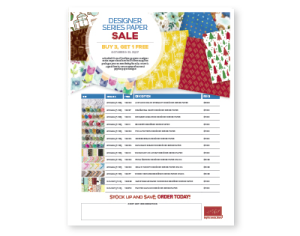 Save
Save
Save
Save