Who can resist it??
The Colorful Seasons bundle was something I could preorder a month before the full catalog came out.
But I didn't.
Then I kept SEEING it!!
The chair!!
I was hooked.
Last month my clubs and Birthday Class made these: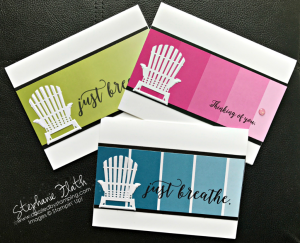 These cards are perfectly simple with the Color Theory DSP Stack and chair.
And have you used the Multi-Purpose Adhesive Sheets?
They're a wonderful use for the detailed chair; they are 6" x 12" and come 12 to a pack.
Cut a piece of cardstock the size of the chair thinlit.
Cut a piece of the adhesive sheet the same size.
Peel the backing off the adhesive sheet and adhere to the back of your cardstock.
Run thru the Big Shot with thinlit on top and adhesive sheet on the bottom/back.
When you peel off the sheet, you have a perfect STICKER to attach to your project.
Here's everything you need for these cards:
Before I go, I have a couple lists you might be interested in printing….
Holiday Bundles available:    Download Bundles.Holiday 2017.
My Classes available:           Download Classes List.090117.
Enjoy your day!