I'm having my Christmas Stamp Camp next month….
That sounded weird to say!
Is it really almost October???
How can it be???
Well, I decided on one of my projects.
Here's an adorable, simple pizza box/gift box: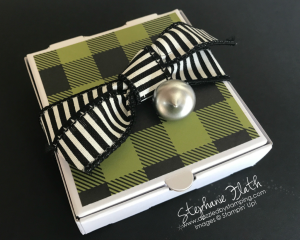 What I can't decide on is my favorite part of this project!
They're all part of the Merry Little Christmas Suite, pgs 10-13: The Merry Little Christmas Designer Paper, the Striped Ribbon or the Mini Ornament!
Aaaahhhhh!!!
Sooo cuuute!!!!
Oh, and by the way, we tested at my club the other night….a standard gift card fits in here perfectly!
We'll probably be making a gift tag for this box at the Camp, too.
Here's the supplies list:
I hope you can make it to my Christmas Stamp Camp!
Have a wonderful day!
Save