My absolute favorite saying in the Lemon Zest stamp set is
If life gives you lemons…

CHUCK THEM RIGHT BACK!

 
Haha!
I love it.
We made this Lemon Zest card this month at my clubs.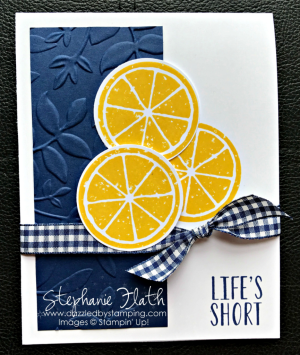 I believe I've mentioned my adoration for the Night of Navy Gingham Ribbon.
Perfect with the lemons, too. ♥
Here's all we used:
Have a wonderful day!
(Life's short. Live it with zest!)
Save