Ok, I already mentioned Bonus Days are back!!
(Sorry I'm getting back to this so late!)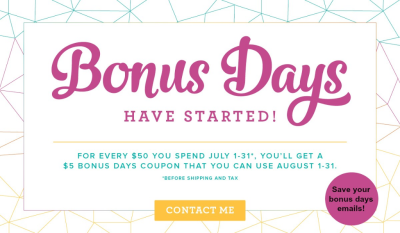 Earning $5 Bonus Codes:
Like the last time Stampin' Up! had this promotion, you have all month (July 1-31) to earn Bonus Days codes [coupons].
For

every

$50 you spend [on a single order of any kind–online, workshop, club, book party] before s/h & tax, you will receive a $5 bonus code.

Code(s) will be emailed to you

. DO NOT LOSE THEM! They cannot be resent, and even I don't receive them.

SUGGESTION: especially considering many of you will be redeeming the codes at your club, feel free to forward me a copy of your email for safe keeping! I will confirm that I received your email, and I'll save them for when you want to use them.

There is NO LIMIT to the number of codes you may receive–either on a single order or on multiple orders.
Codes can be redeemed August 1-31.
Redeeming Bonus Codes:
You will have all NEXT month (August 1-31) to redeem the codes.
Again–make sure you save the emails from Stampin' Up! that include the codes. (One email for each order, but separate codes for each $50.) You may forward them to me, too, so I can use them on any orders I place for you.
I will post specific instructions for how to redeem the codes online if that's the way you'd like to use them.
You CANNOT use the codes on a new demonstrator starter kit or month-to-month Paper Pumpkin subscription. (But you can use it on any PREPAID subscriptions.
There is NO LIMIT to the number of codes you REDEEM on any order. However, your total bonus codes redeemed cannot exceed your order total with s/h & tax.
If you have ANY questions regarding any part of Bonus Days, let me know!!
ONE MORE PROMOTION:

Stampin' Up! is celebrating Christmas in July with its demonstrators!!
And if YOU sign up, YOU get to celebrate with us!!
Free Christmas stamps + more tools, all valued at $72 added to your kit!!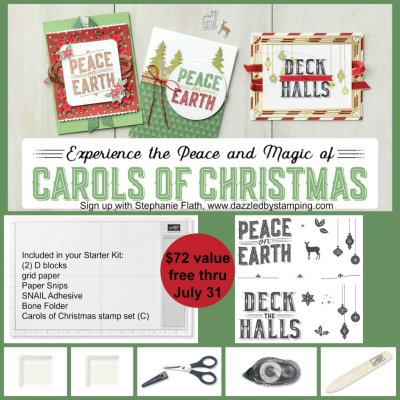 I'd love to have you on my team!
If you have questions, let me know!
By the way, this Christmas set will also be available as a bundle in August!
Stay tuned!

Save
Save
Save
Save
Save