That's what's happening to ALL THE BUNDLES in the current catalogs!
While some bundles are COMPLETELY retiring/gone for sure after 5/31–like Birthday Fiesta in the full catalog or Oh So Succulent in the Occasions…
SOME simply will not be available AS A BUNDLE (therefore saving 10%) in the new catalog–like Cool Treats in the Occasions Catalog. These are marked with a (**) at the end of the bundle name on the retired list.
There will be PLENTY of bundles available in the new catalog, but THIS set won't be bundled: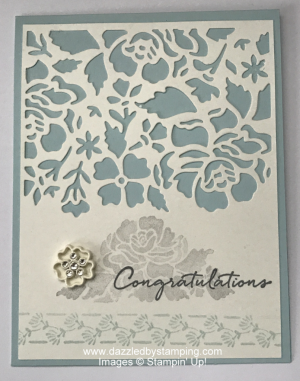 Wedding season is coming up!
And This Floral Phrases bundle is gorgeous!
We used it at my (Moms…Brides…) class a couple weeks ago.
And it's not too late to order it!
Here's what we used for our wedding card:
You can shop anytime by clicking my "Shop Online 24/7!" button at the top right of my blog.
Have a wonderful day!!