I couldn't decide whether to show you something new or something retiring today…so you get BOTH!!
It's a BOGO post! 😀
Here's another card from the Eastern Palace Suite:
I'm a "circles" person.
AND I am IN LOVE with our new In Colors!!

Lemon Lime Twist is my favorite.
It makes every color alongside it POP!
Unfortunately, the light in my pic must not be great, cuz it looks like Pear Pizzazz–which is a color I like also. But it's not popping here!
It's shown here with Tranquil Tide and Berry Burst.
And ALL those stamps and thinlits are from the Eastern Palace bundles! ♥
I love new stuff. 🙂
Ok, so here's the other end of the spectrum–retiring: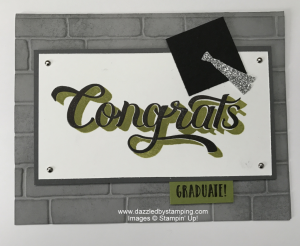 I have always loved the shadow effect on letters, so this set Double Take speaks to me!!
I've also been enjoying Suite Sentiments ("graduate!")
Unfortunately, they're both retiring–but not before a graduation card for class last week. 🙂
Oh–VERY happy the brick embossing folder is staying! 🙂
Congrats Graduate!:
Have a fabulous day!!!
Hope you're able to get out and enjoy the sunshine! 🙂
Save