Happy Friday people!!
I'm so sorry this week went by so fast and I never shared with you!!!
We had a great (quick!) trip down to see Liz.
I think she was happy. 🙂
We got to meet her boyfriend's parents, too!
They're wonderful–and so good to her!
For some reason (never heard why), they didn't have their normal "Mexican Monday" tradition at their fave Mexican restaurant in town that week. So Liz picked it for our "Fiesta Friday" with her. 😀
Oh–flowers are blooming there already!
It was still pretty cold, though, at least the 2nd day.
Ok, I'm sharing my thank you card for last month: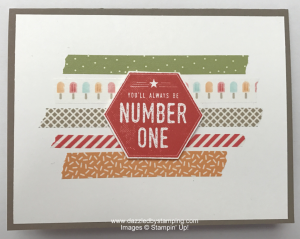 It uses products from BOTH of my favorite Occasions Catalog suites!!
Urban Underground (pg 46,47) and Cool Treats (pg 32,33)
In fact, I used up almost ALL my Tasty Treats Washi Tape! 😀 ♥
Here's what you need:
Now…I have several classes set up for March!
Click here to view all my March classes and/or RSVP.
Here's a summary:
Bringing Birthdays Back Stack, Thursday, March 23 (morning & evening)
Mommy & Me, Saturday, March 25 (morning)
Mommy & Me, Monday, March 27 (evening)
Sale-a-Bration Stamp-a-Stack, Tuesday, March 28 (morning & evening)
CLICK HERE FOR ALL THE DETAILS!!
Have a wonderful weekend!!
Save
Save
Save