The sun is shining and it was a good day to take another pic of the gift box.
PLUS, I have the Online Extravaganza flyer now!!!
Here's our gift box with tag added–Scalloped Tag Topper punch & Tin of Tags set (discounted 25% this month!):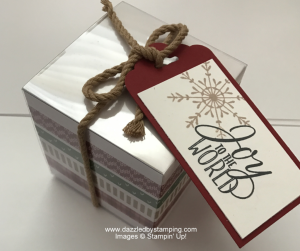 Ok, here are 2 flyers/sales you can view or print/download:
coordinating stamp sets 25% off
Stitched Shapes Framelits [set of 12 dies includes 4 circles, ovals & squares] available this month (and then not again until June.)
HOWEVER, there was a much larger demand than SU! even anticipated! They are on back order now AND the item will be turned off Monday, 11/21, until a new shipment comes in (around 11/28.) If you try to enter it, the system will tell you it's on back order and will ask if you want to receive an email when they arrive.
Save up to 40% on select products!
Pay attention to the specific sections in the flyer:
There are 2 separate 24 hr ONLY sales–both Mondays, 11/21 & 11/28 (the first 1 1/2 pages of the flyer); everything else, not under either of those banners, is discounted for the entire sales period.
There are some items bundled together that aren't available that way in the current catalogs; use the item #s listed in the flyer.
IF YOU HAVE ANY QUESTIONS INTERPRETING THE FLYER, LET ME KNOW!! I CAN HELP!!
Also, I have no workshop/club orders going in during this time. I will gladly place orders for you if you don't prefer ordering online yourself. But there will be a $6.95 minimum shipping charge–and it will ship directly to you.
One last reminder–this is a great time to place a hostess order (or collect orders from friends) of $150 or more! You'll earn hostess benefits AND qualify for an invitation to my Annual Hostess Appreciation Party!! You have til the end of the year to qualify.
Enjoy your day! And have fun shopping online!!
Remember, it starts Monday!
Remember, if you can fall in love with a project, you can learn to create it! Here to help you channel your inner Creative Genius…
Steph
LIKE me on Facebook.
Follow me on Pinterest.
Subscribe to my FREE newsletter, and receive my "5 Tips for Making Fabulous Hand-Stamped Creations."
Save