Yes. Marlene VanderZouwen won again!!!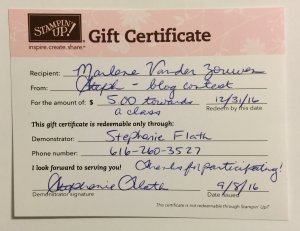 I promise the "contest" was NOT rigged!!!
Thank you to all who commented on your favorite kits in the Holiday Catalog.
Everyone had a different choice. 🙂
That's one of the great things about our catalogs–there's ALWAYS something for EVERYONE!!!
Ok, 2 things to share today:
1) There's a new set of deals–25% discounts on select items for a week. You can see the list here. These items are discounted through 9/14. If you'd like to add them to an order I'm placing and save shipping, let me know before Tuesday, 9/13; I have 3 clubs by then.
2) I added LOTS of classes to my Events Calendar!!!
Mommy & Me…a new Me & My Mom [remember both of those are not just for moms & daughters]…kit classes…stamp-a-stacks….
When I saw the Forever Evergreen Kit (yes, there's a class), I immediately thought of Tyler's (fairly new) girlfriend, Jess. She LOVES Christmas trees, decorations, etc. Her idea of decorating includes a Christmas tree in every room! When this subject came up, she–in passing–mentioned their Christmas trees.
Tyler: Did you say tree(S)??
Jess: Yes!! Wait. This is gonna be a problem, isn't it?
Haha!!
She intends to conform me.
[Kinda like Kate, Abby, Cheryl & Carol try to conform me into the whole Halloween thing. 😉 ]
I don't even have pictures on my walls, for cryin out loud!
She finds it unforgivable that I've never been to Bronner's in Frankenmuth.

I LIKE Christmas! I'm just not into THINGS.
A single tree is plenty. 🙂
Jess is sweet, though. And I'll have to see if she wants to do the class, too.
Aren't they cute?
Have a wonderful day!!
And make sure you go check out all my classes!
Remember, if you can fall in love with a project, you can learn to create it! Here to help you channel your inner Creative Genius…
Steph
LIKE me on Facebook.
Follow me on Pinterest.
Subscribe to my FREE newsletter, and receive my "5 Tips for Making Fabulous Hand-Stamped Creations."
Save