As I told you, our trip to deliver Liz to college went very well.
Yes, I cried.
But not nearly as much as I thought I would.
Just at weird times.
…like when we all (except Liz & her roommate Lola) left for lunch so the girls could organize and get their bearings without the mob of our 2 families stuffed in the room…and there was a complimentary lunch but we found out we couldn't get in without our student and her ID…and we were fine with that and were just gonna go to the campus Chick-Fil-A but wanted to check out what all was available so we were allowed to go in…and when we came out the director of the dining hall came and apologized and invited us back in explaining that they started this policy after having problems a few years ago with thousands of people from the area just coming for a free meal….
Then.
Then I cried.
Everything and everyone about SIU makes me feel better about leaving Liz there.
Their simple kindness at lunch helped me/us take care of Liz's needs.
There's nothing more important for this momma.
Oh, there were other moments of tears, but that one was a little unexpected.
The trip and the day really couldn't have gone any better.
Traffic and weather was great.
We were able to unload/move in a couple hrs earlier than we expected.
Unfortunately, that didn't put us back on the road any earlier.
But the day went well and the trip home was just as good.
She's been really busy!
I've heard from her once.
But she's been in a few pics on facebook: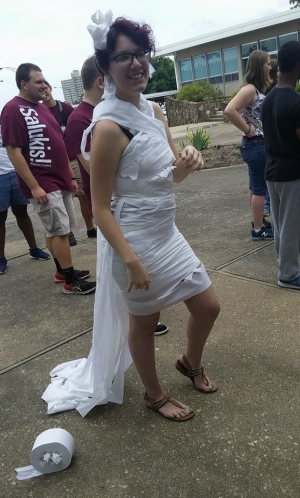 Ice breaker games with her architecture/fashion dorm floor. She was nominated to be the model for the toilet paper bridal gown. 🙂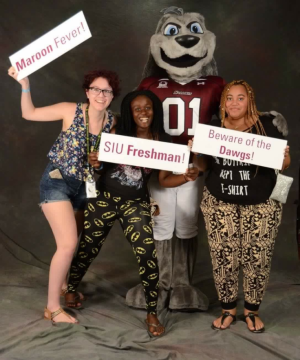 The girl on the opposite end of Liz is her roommate Lola; I didn't meet the 3rd girl/don't know her name.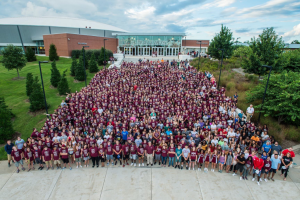 This is the SIU incoming freshman, class of 2020. No idea where she is in there!
Here's Liz's space in her dorm. The room is relatively big! She & Lola are the only roommates but share a bathroom with 2 others. They have their own sink in their rooms, though.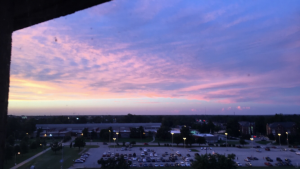 Liz sent me this pic after her first class Monday morning. "view out our window at night" Not bad! 🙂
Ok, I'm done for now.
Thanks for prayers and well wishes!
I'll be back later with a project for you.
Enjoy your day!!
Remember, if you can fall in love with a project, you can learn to create it! Here to help you channel your inner Creative Genius…
Steph
LIKE me on Facebook.
Follow me on Pinterest.
Subscribe to my FREE newsletter, and receive my "5 Tips for Making Fabulous Hand-Stamped Creations."