Happy Monday, people!!
I love something a little different–and not long before the new catalog came out, I realized I'VE BEEN WAITING for some vertical verses of some kind!!
Good thing Stampin' Up! read my mind! 😉
Cuz I never remembered to share it!
Here's my first card with another of my Must Haves–Vertical Greetings: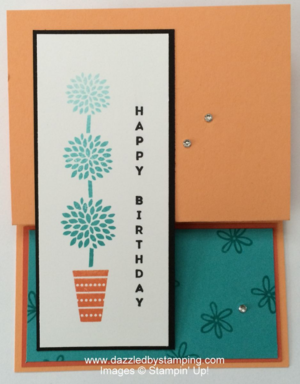 AAAHHH!!!
Too cute!!!
If you can't tell, the top half of the card opens up.
Really easy to make for something different:
Cut your cardstock in half the long way; so you end up with a piece 4 1/4" x 11".
Then score in the other direction at 3 1/4" and 6".
Just like our normal cuts, you can use this as a vertical or horizontal card.
NOTE: if you're attaching something to the top panel like I did, DON'T put adhesive on the back of the WHOLE layer. (In my example, the black….only put adhesive on the top half–so your card will actually OPEN! 😀 )
Colors here are Peekaboo Peach, Tangerine Tango, Bermuda Bay, Black & White.
Can you tell I used the Bermuda Bay Ombre pad, too???
(Another "Must Have". In fact, I got all 3. 😀 )
Oh–I just remembered, besides Vertical Greetings, I also used a little flower from Swirly Bird.
At first I wasn't interested in Swirly Bird.
But there are SO many ideas out there for that set right now!
And I like the ones–again–that are a little different….eventually I'll share. 🙂
**RANDOM DRAWING:
Ok so tell me….What are 2 or 3 of YOUR MUST HAVES???
**Comment below.
I'll draw a random name from the comments below NEXT Monday.
The winner will receive a few cards using MY MUST HAVES–maybe yours too, depending on what they are. 🙂
Couple reminders:
Liz's graduation open house is THIS SATURDAY!! If you're hoping to celebrate with us/her and don't have/lost details, let me know.
I have a FREESTYLE NEW CATALOG OPEN HOUSE next week; there are 2 days you can attend–Wednesday, 6/22 or Thursday, 6/23. Even if you can't attend, I have deals available for you when you order online with hostess code C7QVKNN9 or if you order new color ink pads.
Have a wonderful week!!
Remember, if you can fall in love with a project, you can learn to create it! Here to help you channel your inner Creative Genius…
Steph
LIKE me on Facebook.
Follow me on Pinterest.
Subscribe to my FREE newsletter, and receive my "5 Tips for Making Fabulous Hand-Stamped Creations."
Save