I opened up my new catalog stuff for a quick card.
I LOVE the new In Colors–especially Sweet Sugarplum and Peekaboo Peach!!!
They're featured here with the Playful Palette DSP Stack (along with the new Emerald Envy):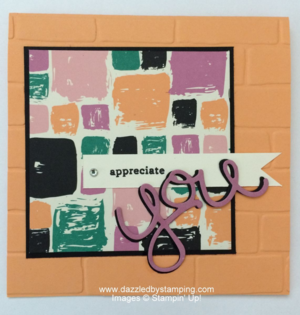 Oooohhhh how I love these colors!!!
As I said….DEFINITELY playful!!
The stamp is from Endless Thanks, and the Thinlits are Hello You.
I made my own little drop shadow.
Love.
Wouldn't wanna do that with every card–but once in awhile I can handle it.
Actually, I haven't played with the Hello You Thinlits in awhile, and they are a little thicker [font] than the newer word or delicate thinlits are–like Rose Wonder bundle.
Translation: they're pretty easy to work with–especially with our handy Fine Tip Glue Pen. 🙂
I'm sure I'll be playing with more colors soon!
Can't wait til we can order on June 1!
If there are still retiring items you want, order by May 31.
Reminder–stamp sets are guaranteed available thru May 22; after that, they will be while supplies last, like everything else.
Have a fabulous weekend!!
Remember, if you can fall in love with a project, you can learn to create it! Here to help you channel your inner Creative Genius…
Steph
LIKE me on Facebook.
Follow me on Pinterest.
Subscribe to my FREE newsletter, and receive my "5 Tips for Making Fabulous Hand-Stamped Creations."