I have LOTS OF LOVE for Stampin' Up!!!!
Have I told you how I first fell in love with it?
Well, first of course, was the catalog.
How amazing is our catalog???
I read it for hours and hours before my sister's first ever Stampin' Up! workshop.
(That's right; she found SU! before me.)
My wish list grew bigger and bigger with every minute–and she got a NICE order from me for her party! 😉
The second thing I fell in love with was COLOR COORDINATION!!!
I had stamped before; but "contraband" [as I call all non-SU! product 😉 ] red ink and red cardstock didn't match!!!
How ANNOYING!!!
When I found SU!, I breathed a sigh of relief when I would stamp Real Red ink next to Real Red cardstock! PERFECTION!!!
Well, SU! has totally stepped up their game over the years when it comes to coordination.
Coordinating suites of products include some or all…
framelits/thinlits
embossing folders
punches
ribbon
DSP (designer series paper)
washi tape
packaged cardstock featuring assorted colors from the suite (often from different color families–so helpful for those of you who don't have every single color of cs!)
…and there's always more they come up with!
I realized last night when chatting with a dear friend that I never showed the other set of cards we made at my Hostess Appreciation Party!
This coordination is an amazing tool I rely on for this party–so everyone, for the most part, can stay seated rather than go table-to-table and WAIT to stamp!
I used the It's My Party suite from pgs 4-7 in the Occasions Catalog–Party Wishes set, Party Punch Pack (can be bundled with the set), cardstock pack, DSP Stack (this is 12×12!!), and enamel dots.
I chose a stamp or 2 from the set and designed 3 different cards (for 3 sets of tables.)
Everyone made 1 of the 3 of these: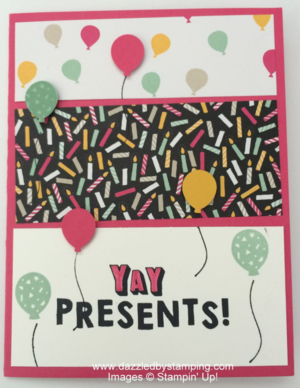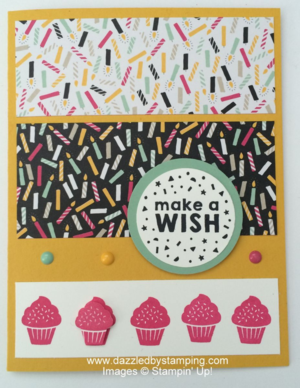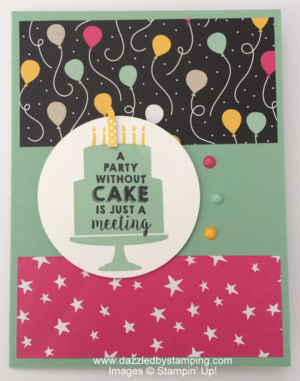 And they even got to try out the Party Pop-Up Thinlits and Big Shot Die Brush when they were between projects!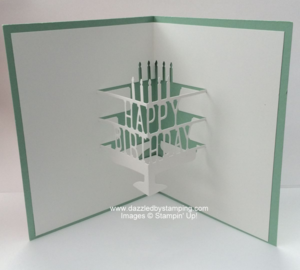 These things are so cool!! And they're pretty easy to work with–with a few tips.
Below is the video again on them; I would add that, once you have your [insert cardstock] scored, CREASE IT WELL before lining up your die with the mountain of the crease facing up.
Ok, I think I gabbed enough for today!
Have a wonderful weekend! (I'm SO lovin' the sunshine!!!)
Remember, if you can fall in love with a project, you can learn to create it! Here to help you channel your inner Creative Genius…
Steph
LIKE me on Facebook.
Follow me on Pinterest.
Subscribe to my FREE newsletter, and receive my "5 Tips for Making Fabulous Hand-Stamped Creations."