Love this look of a soft white Christmas.
The ground is covered.
There's a little snow on the branches.
Simply beautiful.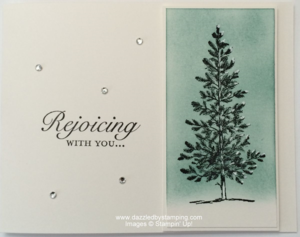 We made this card at my Christmas Stamp-a-Stack.
My favorite detail is the subtle snow drawn on the branches and trunk with the white gel pen.
So simple and remarkable at the same time.
I'm not at all a "snow person".
But I enjoy the beauty of it–on the ground and in the trees.
Have you ever noticed in winter that when it snows in the middle of the night, even if you can't see outside to the ground, you can tell is has snowed by how bright it is? Even inside? That fresh white brightens everything up!
Beautiful.
Speaking of beauty…and snow…and Christmas….
I'm really looking forward to tonight!
Todd & I are going to see the Calvin College Oratorio Society perform Handel's Messiah.
We haven't seen it in a LONG time. But it HAD been a tradition in my life for a long time….
Before Tyler was born, a friend and I performed with the Oratorio Society for a few years.
Before that, my high school sang the Hallelujah Chorus at every Christmas Concert–AND invited any alumni to come on stage to sing along.
So–not only did I sing it through my high school years, I sang it through my sisters' and brother's high school years, too.
I think my favorite time was probably squeezing up in the middle of the bass section with my sister to sing along with our brother. 🙂
I know we'll stand. But I hope at the performance tonight, they invite us to sing along with the Hallelujah Chorus, too. I don't remember the exact tradition–except that we stand.
It's really hard not to sing along when I'm just there to watch. 🙂
What are some of YOUR favorite Christmas traditions or memories???
I hope you're starting to enjoy some of them, too.
Have a wonderful weekend!
Remember, if you can fall in love with a project, you can learn to create it! Here to help you channel your inner Creative Genius…
Steph
LIKE me on Facebook.
Follow me on Pinterest.
Subscribe to my FREE newsletter, and receive my "5 Tips for Making Fabulous Hand-Stamped Creations."