Here are my colors again!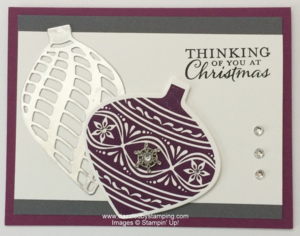 Rich Razzleberry cs, Blackberry Bliss ink paired with Basic Gray and silver.
This is the Embellished Ornaments bundle.
We were very "Big-Shot-happy" at my Christmas Stamp Camp!
And THIS card required us to use the Big Shot in 2 ways….
The silver (foil sheet) ornament is a detailed thinlit which works perfectly with the new Precision Base Plate. The added pressure from this plate cuts out all the little pieces nicely. But you do still have to poke them out.
The Blackberry Bliss ornament is a framelit (just frames the image.) You CANNOT use the Precision Base Plate with framelits. The extra pressure could damage them.
Oh, I love the extra bling on this card, too!
Besides the Basic Rhinestones, there's a Winter Wonderland Embellishment in the middle of the ornament.
So lovely! 🙂
Oh, I don't wanna forget! I recently posted 2 more events I have coming up this year. Click on the link for details or to RSVP:
Have a wonderful weekend!
Remember, if you can fall in love with a project, you can learn to create it! Here to help you channel your inner Creative Genius…
Steph
LIKE me on Facebook.
Follow me on Pinterest.
Subscribe to my FREE newsletter, and receive my "5 Tips for Making Fabulous Hand-Stamped Creations."