CASE: Copy And Share Everything!!!
That's what I did with this cool Christmas card!
I found the original idea on Pinterest from Carolyn Bennie: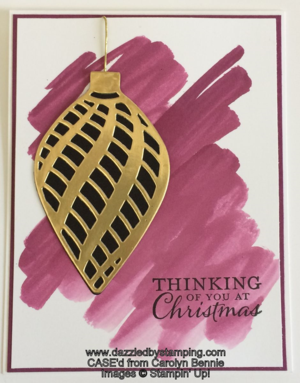 Copying is one of the best ways to learn how to stamp.Plus it gives even the seasoned stamper a boost of inspiration!
This card is a pretty simple way to use the Delicate Ornaments Thinlits (also available as a bundle.)
In fact, I like using these thinlits with the Foil Sheets BEST.
Pieces pop out really easily–unlike with the Glimmer Paper….That has a layer of something that seems hard for the thinlits to cut all the way through–even with the Precision Base Plate. But SOMETIMES you need that extra little sparkle!
I used an Aqua Painter (hollow barreled paintbrush that you fill with water, pg 163) and Rich Razzleberry ink refill for the background.
Blackberry Bliss cardstock is layered between the whites to add richness.
And just cuz I can't resist it. 😉
Ok, off to do more prepping for my Christmas Stamp Camp this weekend! SO EXCITED!!!
Don't forget to check out the new Weekly Deals!!
Have a fabulous week!!
Remember, if you can fall in love with a project, you can learn to create it! Here to help you channel your inner Creative Genius…
Steph
LIKE me on Facebook.
Follow me on Pinterest.
Subscribe to my FREE newsletter, and receive my "5 Tips for Making Fabulous Hand-Stamped Creations."