Happy first day of school!!!
I loved seeing everyone's first day pics on facebook today.
We didn't take any though.
This is Elizabeth's senior year!! Crazy!!
Well the card I have for you was made by my downline, Judi Siegers.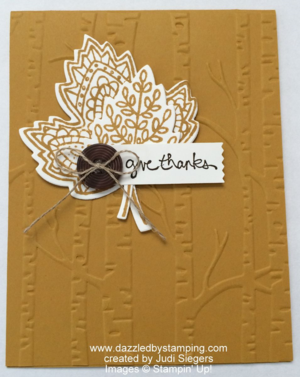 I adore this new Woodlands embossing folder! But I didn't get it in the first order I placed.
I JUST got it and still have to play with it.
And Judi made me kinda love this new Lighthearted Leaves set, too!!
If you didn't catch it, they coordinate with the Leaflets Framelits that were already in the full catalog.
I like her use of the Washi Label punch, too.
Don't forget–even though it FEELS like Monday, it's Tuesday!!
New Weekly Deals!!
Have a great week!
Remember, if you can fall in love with a project, you can learn to create it! Here to help you channel your inner Creative Genius…
Steph
LIKE me on Facebook.
Follow me on Pinterest.
Subscribe to my FREE newsletter, and receive my "5 Tips for Making Fabulous Hand-Stamped Creations."