I really liked my results from the Watercolor Wings Color Challenge!
I sent my cards off to Marlene, and I thought I'd share some of them with you.
Here's one that she DIDN'T get. (I can't show you hers before SHE sees them!)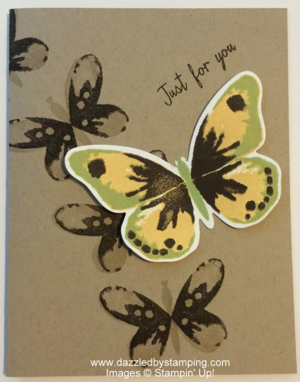 It started with the color combo: Pear Pizzazz, So Saffron, and Early Espresso.
But I decided to add Crumb Cake for the card base.
I definitely love these butterflies!
And they're easier to pop out of the framelits than the Butterfly Basics! 😉
Ok, today starts a new set of BONUS Weekly Deals.
Don't forget to check them out!
AND, I'm really sorry, but I need to change my Tin of Cards Classes!!
Stampin' Up! informed us that it's on back order and suggested we not plan any classes with it until August.
(By the way, SU! said this is the most popular kit we've ever had!)
Anyway, I'm postponing it and replacing it with a different one.
I'll post separately after this.
Have a great day!
Remember, if you can fall in love with a project, you can learn to create it! Here to help you channel your inner Creative Genius…
Steph
LIKE me on Facebook.
Follow me on Pinterest.
Subscribe to my FREE newsletter, and receive my "5 Tips for Making Fabulous Hand-Stamped Creations."